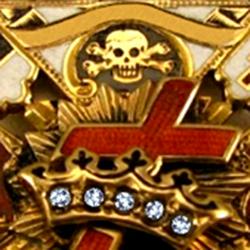 Los Angeles (PRWEB) April 09, 2013
New research reveals how Templars in Europe survived the burning of their brothers at the stake after 1307 and got their revenge. Noted historian Sanford Holst explores these intriguing issues in the new book "Templar Inferno," which produces some surprising discoveries about the Templars.
One of those revelations is that Dante was inspired by the torture and flaming deaths inflicted upon these knights to write his "Inferno" shortly thereafter. That in turn influenced Dan Brown to write his latest book. Even more important were the actions by Templars from noble families who had considerable resources to draw upon as they went into hiding.
These are moving, personal stories of people who lived through those events – people who were called upon to do extraordinary things.
"The Templars," said Holst, "had lived in a closely-knit brotherhood amid great secrecy, protecting each other against outside enemies. All these things helped them survive attacks by the king of France and the Vatican, and gain a measure of revenge."
Santorini Publishing has brought out "Templar Inferno" as part of its focus on new views of popular subjects in history and the modern world. The book is in paperback and eBook editions around the world.