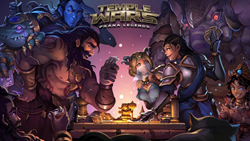 Temple Wars is a transmedia project aiming to get backers to co-create a new marvel-esque universe.
New York City, New York (PRWEB) October 07, 2016
New media franchise Temple Wars has announced today that it is raising funds through a crowdfunding campaign on Kickstarter. The company is set out to raise $10,000 to bring their "transmedia" world to life. For those who love the universes of Marvel and DC, Temple Wars offers a new battleground of good and evil to conquer. Funds raised will help develop: a collectible card game, a young adult fantasy novel, a screenplay, an audio book, a concept art book, a soundtrack and an animated film. "This will grow a new type of transmedia universe, that takes the backers as creative partners in the growth of the franchise" says Rohit Gaur the creator of the franchise. Gaur is hoping the Temple Wars will set the way for crowdfunded transmedia projects.
The kickstarter will launch on October 10th, 2016.
Contact
Sandra Florent
PR Rep
Temple Wars
info(at)templewars(dot)com
201 562 2787
rohitgaur.spectrum(at)gmail(dot)com
https://www.kickstarter.com/projects/578025236/570902334?token=d2549ec0