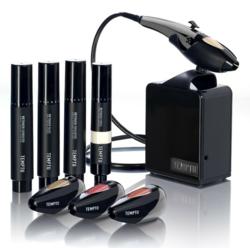 Many consumers found Temptu to live up to the claims.
Dallas, TX (PRWEB) July 31, 2012
A new set of published Temptu reviews has been announced by CharmReviews, a hair and makeup product consumer reporting website. The first review was released on Friday.
Temptu is a new airbrush makeup system that has been receiving plenty media coverage lately. Carrie Jennings at CharmReviews saw the commercial for the makeup product, and then immediately felt the need to do a thorough research on the product.
"When I saw the commercial, a lot of the claims sounded a little too good," said Jennings. "From the water & sweat resistance, to the 'no brushes, sponges, or puffs needed' promises, I needed to do the research myself to see if the Temptu could really live up to the hype."
The Temptu Pro airbrush makeup system is oil-free, hypoallergenic, and dermatologist approved. The Temptu makers promise precision application that blends seamlessly without the need of a 'professional', and that only two drops of makeup can cover your entire face.
The results of Jennings' Temptu review were surprising. Many consumers found Temptu to live up to the claims. An online reviewer under the name of Cyclo from Charlotte, NC who got the Temptu pro system for his wife said she "absolutely loves it." The review continues, "The product dispenses the make-up very evenly and smoothly," and that the makeup overall looks "great and natural."
The Temptu makeup system has also been found in several major national publications with many positive things to say about the product. Harper's Bazaar recently touted Temptu as "the quickest way to get perfect skin." Elle called the product a "foolproof airbrush kit," and InStyle called it a "do-it-yourself airbrushing machine that promises a flawless, TV-worthy complexion."
The product can be found on the official Temptu website by clicking here. Consumers are urged to do their shopping on the official site to avoid buying a product that cannot be backed by the 60-day money back guarantee. The company is currently offering a 30-day trial of the product for $29.95.
The rest of Jennings' review can be found on the CharmReviews website.