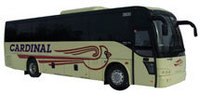 Middlebury, IN (Vocus) April 1, 2010
In 2008, Cardinal Buses, the leading Indiana bus charter company, purchased two Temsa buses to add to their already robust fleet. Coming all the way from Turkey where they were manufactured, Temsa buses proved to be a huge success in the United States. The Temsa buses were reserved for months out, due to its luxurious passenger amenities and powerful engine capabilities. Cardinal Buses saw an opportunity to continue growing their business by purchasing yet another Temsa charter bus.
The new bus has arrived and has been available for service since January 2010. With the latest amenities available, such as wireless internet and power outlets in every row, Cardinal Buses is expecting the new Temsa bus to be among their most popular charter bus requests. The popularity of the Temsa buses are spurred by their flexibility for mid-sized travel groups while offering amenities generally only found on 50+ passenger buses. The midsized bus is capable of carrying up to 38 passengers, making it a perfect choice for small college sports teams as well as tour coordinators looking to charter a bus for a sightseeing tour or senior citizen trip.
Cardinal Buses was the first American company to be able to add the Temsa bus to their list of available charter bus services. As with all of the coaches in their fleet, Cardinal Buses performs regular, thorough maintenance as part of their commitment to passenger safety. Their motor coach drivers each carry a Commercial Drivers License, as well as a sparkling driver safety record.
About the Company: Cardinal Buses has been providing bus rental services in the Midwest since 1923. Their dedication to clean, safe charter buses is evident through the multiple awards and recognitions they have received since their inception. If you would like more information about Cardinal Buses, their safety record, or to receive a quote on a charter bus rental, please visit http://www.CardinalBuses.com or call toll free 1-800 348-7487 (Middlebury, IN location) or 1-800 521-6006 (Holland, MI location).
###