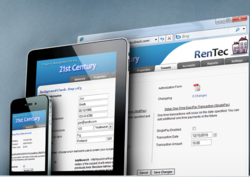 Rentec Direct makes this direct ACH network access available to every landlord.
Grants Pass, OR (PRWEB) December 12, 2011
Rentec Direct now provides direct access to the nationwide ACH network for both independent and professional landlords. The ACH industry has long ignored landlords in enabling automated rent collection; however, that changes today with E-Check accounts available from Rentec Direct. E-Check Direct integration works with or without the use of Rentec's property management software for automating the collection of monthly or weekly rent payments from tenants.
ACH (aka eCheck or bank draft) is used in many subscription services like municipal water billing, power bills, gas bills, and many other commonly used subscription services. Likewise, the mortgage and insurance industries have relied on ACH to automatically debit a home owner's bank account for monthly or annual fees for years. This same functionality is now available to landlords to automate the arduous task of monthly rent collection.
What is traditionally unavailable to landlords through banks and merchant processors, Rentec makes this direct ACH network access available to every landlord. This includes landlords with as little as a single property or larger property managers managing hundreds of properties. There are no preventative costs or monthly maintenance fees involved which makes the solution affordable for every landlord.
About Rentec Direct
Rentec Direct provides property management solutions for managing properties, tenants, and owners. Other popular solutions include, tenant ACH payments, criminal and credit background screening and online syndication of vacancies to more than 20 popular websites.
###