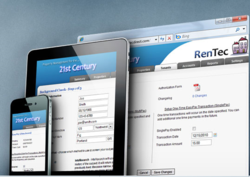 Nobody seems to be looking after or helping the smaller property managers. This stops today!
Grants Pass, OR (PRWEB) February 22, 2012
There are more new renters today than ever before and this means landlords are facing the challenge of finding qualified tenants for their vacant properties. Access to, and the knowledge of how to use these tools, has been a mystery for smaller property management firms and landlords. To clear the fog and show that every single landlord can have quick and easy access to the vital tools necessary for effective and thorough tenant screening, Rentec property management software releases the Landlord's Tenant Screening Manual to Success.
Nobody seems to be looking after or helping the smaller property managers and private landlords that don't have a huge organization, says Nathan Miller, president of Rentec Direct. This stops today as Rentec Direct provides all these professional tools to every qualified landlord which includes private landlords, apartment owners, and small to mid size property management companies.
Effective tenant screening involves having a picture of a prospective tenant's rental history, including a credit report and score from the major credit bureaus, nationwide criminal background report, and nationwide eviction report. Many landlords feel these tools are out of reach or too costly for them; however, this manual shows every landlord how to obtain and use these tools within a matter of hours and how the cost of the reports is less than the average application fee.
This guide is available free to all landlords on the Rentec property management blog located at http://www.rentecdirect.com/blog/
About Rentec Direct
Rentec Direct provides rental software solutions for managing rental properties. Other popular solutions offered by Rentec Direct are tenant ACH payment processing and tenant screening, and online syndication of vacancies to more than 20 popular websites.
###