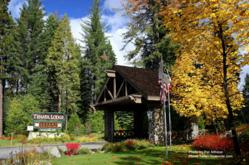 Autumn is Yosemite's biggest secret, and Tenaya Lodge is the place for savoring the season.
Fish Camp, Calif. (PRWEB) September 27, 2012
When Yosemite National Park turns the corner on autumn, a colorful show, featured only for a limited engagement, comes clearly into view. Tenaya Lodge at Yosemite celebrates the season with special values on lodging and packages that enhance the escape.
Autumn is Yosemite's biggest secret, and Tenaya Lodge, the all-season Yosemite hotel set two miles from the South Gate to Yosemite National Park, is a superb base camp for experiencing its splendor. It's when Yosemite returns to a natural state of grace. A calm new energy flows into the park, offering a chance to come up for air and appreciate details that seem so elusive during summer's rush.
It starts with amazing light and crystal clear air that infuses every suddenly-quiet corner of the park. There's a new quality of light, and since Yosemite is such a scenic place, light definitely matters. Black oaks and their glowing yellow leaves ignite El Capitan Meadow with color. The view from Glacier Point, a cloudless blue sky above, can seem to go on forever. Enormous, rust-barked skyscrapers that stand side-by-side as the Mariposa Grove of Giant Sequoias, just a couple of miles up the road from Tenaya Lodge.
With superb weather, fewer people and more animals along the trails, hiking, mountain biking and photo safaris are spectacularly in season during the fall. Tenaya Lodge offers the Yosemite Park Pass Package from $159 and the Big Trees Tour Package from $189.
Autumn is also a great time to recharge and reconnect with friends, and for that, Tenaya Lodge's Bro-Man's Vacation is just the ticket. With rates starting at $139, Tenaya Lodge makes it extra-affordable for guys (and their wingmen) to do some mountain biking, hiking, golfing, fly fishing, and more. After quality guy time and cocktails at Jackalope's Bar & Grill, there may even be a chance to sneak into Ascent Spa at Tenaya Lodge for a rejuvenating sports massage.
New at Tenaya's Ascent Spa is the "Spa 120" package. Available year-round, Spa 120 pairs a deluxe king or double room with 120 minutes of spa treatment time. Talk about the luxury of choice! During the stay, take any combination of 30-, 60- or 90-minute treatments that equal 120 minutes. And since all that wellness is bound to stoke an appetite, Spa 120 includes a 10% dining discount valid during the stay, just to help keep up with all that new energy created during the "Ascent."
Yosemite's new-found quietude suits romantic getaways to a "T," and Tenaya Lodge comes through with its Fall in Love and Escape to Romance packages. Fall in Love features champagne and chocolate covered strawberries at check-in, followed by a romantic nature hike. Later, after dinner by candlelight at Embers, more ambiance: turn-down service includes a bed covered in rose petals and chocolate kisses. Taking it to a new level? Upgrade to Tenaya Lodge's Escape to Romance package, including a Spa Suite with jetted tub and a highly romantic Chateaubriand dinner for two. Too in love to leave? The weekend Sleep in Sundays Package fits the bill with Deluxe accommodations, in-room breakfast for two, and late check out at 2 p.m. on Sunday afternoon.
For more information, call toll-free, (888) 514-2167, or discover all the details at Tenaya Lodge's Seasonal Packages online home.
About Tenaya Lodge at Yosemite
Tenaya Lodge at Yosemite is an all-season resort framed by noble evergreen forest and a rich range of Sierra recreation. The lodge, set adjacent to Yosemite National Park's South Gate at an elevation of 5,288 feet, offers 297 rooms, suites and mountain cottage accommodations. Tenaya Lodge offers easy access to Yosemite's iconic attractions, and many guests savor the alpine serenity of the new Ascent Spa at Tenaya Lodge. Resort dining options run the table from casual to candlelit at Sierra, Jackalope's, Timberloft and Embers restaurants. For more information, see http://www.TenayaLodge.com.
About Delaware North Companies Parks & Resorts
Delaware North Companies Parks & Resorts is an industry leader providing Stewardship and Hospitality in Special Places SM, with hotel, retail, food service, recreation and transportation operations at historic and scenic properties in North America and Australia. The company operates Kennedy Space Center Visitor Complex and in Yellowstone, Grand Canyon, Sequoia and Yosemite national parks, including The Ahwahnee and other Yosemite lodges; Tenaya Lodge at Yosemite; Harrison Hot Springs Resort & Spa in British Columbia; Niagara Falls State Park; The Lodge at Geneva-on-the-Lake in Ohio; Gideon Putnam Resort in Saratoga; Holiday Inn West Yellowstone, Gray Wolf Inn & Suites and Yellowstone Park Hotel. The company also owns and operates five luxury resorts in Australia: Lizard Island Resort, Heron Island Resort, Wilson Island Resort, Kings Canyon Resort and El Questro Homestead and Wilderness Park. To learn more about Delaware North Companies' hospitality management expertise, visit http://www.experiencednc.com.