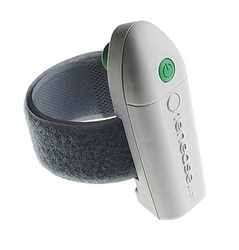 Available to athletes in next month's Commonwealth Games in New Delhi for drug free pain relief of sports injuries
(PRWeb UK) September 9, 2010
Fast becoming the leading treatment for tennis elbow in the UK and US, Tenease was developed as the first effective pain relieving treatment for the millions of tennis elbow sufferers around the world. With over 1m new cases in the UK alone every year, until now there has never been a successful treatment for the condition.
Breakthrough research carried out by orthopaedic surgeon Ranjan Vhadra has resulted in the first effective home treatment for tennis elbow, a painful condition that affects 1% to 2% of the population between the ages of 30 and 60 and is unrelated to racquet sports. Tenease is a small portable device which works by vibration therapy and is safe, side effect free and can be used in conjunction with other treatments. Currently sold online and through larger pharmacies in the UK, US and a few European countries, Tenease has allowed thousands to have pain relief and avoid painful injections at their doctors.
The organisers of the Royal College of General Practitioners Annual Primary Care Conference have been so impressed with the results of the device they have requested the inventor present the findings of the initial study at the annual conference. With a target audience of consultants, GPs, lecturers and medical professionals, the conference showcases the latest clinical and policy developments across the UK and brings together an impressive range of national and international speakers. Guests for the presentation will also include The Rt Hon Andrew Lansley CBE MP, Secretary of State for Health.
Athletes at next month's 2010 Commonwealth Games in New Delhi, India will have the device available for pain relief after recent trials at sporting events. The use of drug free pain relief is especially important to treat injury while remaining within the drug testing parameters.
Tenease is also exhibiting at The Pharmacy Show at the Birmingham NEC on October 10th and 11th.
For more information about the product or its inventor please contact the Tenease team at;
Press enquiries: press(at)tenease(dot)com
Pharmacy sales: trade(at)tenease(dot)com
talk to the team: (+44) 1481 267007
###