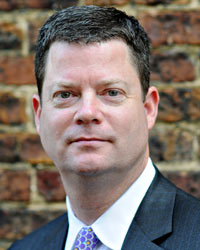 Our law firm has always stood up for the rights of the injured. I hope our lawmakers will do the same.
Morristown, TN (PRWEB) May 10, 2011
East Tennessee personal injury lawyer Brack Terry today urged the state's lawmakers to reconsider tort reform legislation that would limit the rights of those who have been harmed by the careless acts of others.
According to the Knoxville News-Sentinel, the Tennessee legislature is poised to pass a bill, H.B. 2008 / S.B. 1522 ("The Tennessee Civil Justice Act"), which would place caps on non-economic and punitive damages in civil lawsuits. Supporters of the bill have said the caps are necessary for the state's business climate.
"I want a strong Tennessee economy as much as anyone, but you cannot accomplish that goal by sacrificing the rights of those who have been harmed by the negligent, reckless acts of individuals, professionals and companies," said Terry, whose law firm, Terry, Terry & Stapleton, represents accident and injury victims throughout East Tennessee, including those harmed by motor vehicle accidents, medical malpractice and defective products.
"These so-called reforms will end up harming more people than they help," he said.
An initial version of the legislation called for placing a $750,000 cap on non-economic damages in civil lawsuits, such as damages awarded for pain and suffering, emotional distress and the loss of enjoyment of life.
The initial bill also would have capped punitive damages – awarded to punish and deter especially egregious misconduct – at $500,000 or two times the total of economic and non-economic damages, whichever would be the greater amount.
However, due to heavy opposition from groups such as the Tennessee Association for Justice, the legislation has been slightly amended, raising the cap to $1 million in cases involving "catastrophic injury" – defined as spinal cord injury resulting in quadriplegia or paraplegia, amputation of the hands or feet, third-degree burns covering more than 40 percent of the body or wrongful death.
The legislation would exempt certain other categories of cases from the damage limits, including drunk-driving cases.
"These amendments illustrate how arbitrary these limits are," said Terry, a member of the American Board of Trial Advocates. "Why allow greater damages for spinal cord injury but not, for instance, traumatic brain injury?
"The bottom line is that, in our civil justice system, juries should decide these matters, case-by-case, based on the evidence presented to them by the parties – not the legislature," he said. "Our law firm has always stood up for the rights of the injured. I hope our lawmakers will do the same."
About Terry, Terry & Stapleton
Terry, Terry & Stapleton is a firm of Tennessee personal injury lawyers, criminal trial attorneys and Social Security disability attorneys and claimant's representatives that has served East Tennessee residents for more than 46 years, including clients in Rogersville, Newport, Morristown, Knoxville, Kingsport, Johnson City, Jefferson City and Greeneville. The firm handles personal injury and wrongful death cases, including car accident claims, workplace injuries, Social Security disability claims, medical malpractice lawsuits and products liability cases. For more information, call (800) 518-3779 or use the firm's convenient online form.
###