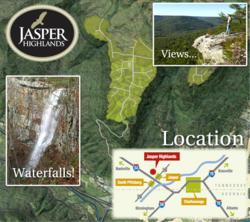 July 28, 2012 slated as Last Chance before Closeout of Tennessee Land For Sale
Chattanooga, TN (PRWEB) July 12, 2012
How are record land sales made in a down economy? When you give people more than what they want at an unheard of price.
According to Vice President of Marketing, Rachael Trevino at TN land, "It isn't just the Hollywood legends that are buying gated private estates these days. For example, Katy Perry recently settled into a 3-acre estate that is a plentiful haven. Katy decided it was time to move up to accommodate a more spacious lifestyle." Trevino continues, "Investors serious about returns and those who won't sacrifice any aspect of their dream property or profit potential are flocking to TNland, which is why we continue to break records across the board with our Tennessee land for sale."
Jasper Highlands is located 25 minutes from downtown Chattanooga, the private and secluded mountain community sits atop 9,000 acres with large estate lots that range from 1-7 acres. "Founding Members" as they are calling their first 100 homeowners are taking advantage of large lots with a tremendous savings of $50,000 to $150,000. There are only a few home sites available under this Tennessee Land Phase One closeout. According to Trevino, "When you look at Phase 2 planned prices, we believe our founding members will experience a 200% ROI for taking action early, comparable nearby properties are selling similar land for 700K.
"July 28, 2012 slated as Last Chance before Closeout of Tennessee Land For Sale!"
Mark July 28th on your calendar! Jasper Highlands will be offering a once in a lifetime opportunity and including paying up to $5,000 towards closing costs plus your travel expenses on that weekend, which includes their private privileges package. There is already huge interest because there are only 10 reservations left for this weekend; so potential buyers want to call immediately for qualification to the event. TN Land has a special reserved block of hotel rooms, which will be paid by the developer for this weekend only for those who call to set up their appt.
According to Trevino, "There may never be another day where Tennessee land investors can capitalize on such an amazing opportunity with so much upside potential." Jasper Highlands is considered one of the most limited naturally beautiful and unique outdoor settings in all of Tennessee. It is a mountain community that now has the most affordable land for sale in Tennessee with acreage properties in East Tennessee having 360-degree views of lakes and the Tennessee River Valley. This remarkable piece of real estate is beautifully positioned to enjoy views of three different states.
John 'Thunder' Thornton is the owner of TNland.com and Jasper Highlands. John is a visionary and the developer of the exclusive community. He has an extensive pedigree in building throughout the U.S, from the tropics of Hawaii to the posh abodes of Jackson Hole. When it's time to buy land, we leave nothing to the imagination but the dreams and happiness quotient that this land adds to a person's life. "Our business was in acquiring the best real estate in Tennessee," states Thornton. With this strategy Thunder has broken new ground as well as astronomical records in land sales. Bradshaw said, "July 28th will be the last time the prices will be seen this low, because of the special land package offering. The mountain is hugely under priced for the premium acreage being offered". Land investors everywhere may be interested in getting our Tennessee land for sale.