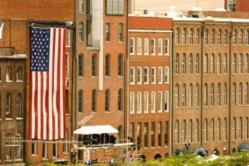 Commemorate those who gave their lives for freedom
Nashville, TN (PRWEB) May 15, 2013
Memorial Day is more than just the kick-off to a great Tennessee summer. It's a day to reflect and remember the brave men and women who gave their lives for America's values and freedom. Services throughout Tennessee will be held Memorial Day weekend including a special service in downtown Franklin, Tenn. which will feature the Williamson County Community Band and members of the 101st Airborne Division, Ft. Campbell and the Tennessee National Guard. Commissioner Many-Bears Grinder of the Tennessee Dept. of Veterans Affairs will be the special guest. A sampling of Tennessee Memorial Day events can be found below.
EAST
Start your summer the right way by going to Take It to the Lake 2013 Memorial Day weekend at Cherokee Park in Morristown. Enjoy music by headliner Dustin Lynch ("She Cranks My Tractor"), great food, fun on the lake and fireworks. Tickets are $5.50.
Enjoy a summer kick-off at the Davy Crockett Birthplace State Park in Limestone, Tenn. There will be kid's activities throughout the weekend led by a Seasonal Interpretive Ranger.
Spend your Memorial Day on the Ocoee River with Quest Expeditions as you raft on the Middle Ocoee 10 a.m. or 1:30 p.m. Monday, May 27. Free deli lunches will be served after the morning trip and before the afternoon trip. Tickets are $30 a person or $27 for groups of eight or more.
The White Knuckle Event is quickly becoming the Woodstock of the ATV world in Huntsville as thousands of people from the U.S. and some foreign countries come together for guided ATV rides, poker runs, mud bogs, concert and more. A $10 pass includes all-access to every event including the Saturday evening concert with the exception of the Moonshine Run.
Head to Big South Fork for a Memorial Weekend filled with horseback riding in the beautiful Big South Fork, referred to as the trail riding capital of the Southeast. True West, considered the best horse campground in Big South Fork, will host a Memorial Weekend with a three-night minimum for campers. A catered dinner, live entertainment with dancing and lots of horseback riding will be highlights for the weekend beginning May 25.
MIDDLE
Join Loretta Lynn, Joey + Rory, Joe Nichols and more artists for the 2013 Memorial Day Concert May 24-25 at Loretta Lynn's Ranch, one of Tennessee's top attractions in Hurricane Mills. Browse the Coal Miner's Daughter Museum, 18,000 square feet which is home to a huge collection of awards and mementos from Loretta's extensive career.
Be a hippie during Memorial Day weekend at Jammin' at Hippie Jack's May Festival, a three-day weekend filled with camping and Americana music in Crawford. The preservation of Americana singer-songwriters is done through a public television music series which is broadcasted from the farm to over 70 million fans. Over 1,000 fans camp and enjoy the live experience. The art studio on site also features local artists.
Join Stones River National Battlefield for its Decoration Day 10 a.m. May 25 at the Stones River National Cemetery. Boy and Girl Scout organizations from Middle Tennessee will place American flags on more than 7,000 graves. Come back for the Memorial Day Service at 1:30 p.m. May 26 at the national cemetery rostrum for patriotic music, a reading of the names of veterans who have passed away since last Memorial Day and a wreath laying ceremony are planned.
WEST
Commemorate those who gave their lives for freedom with the 2013 AutoZone Sunset Symphony, the grand finale of the month-long Memphis in May celebration May 25 at Tom Lee Park. Take part in this time honored tradition as the symphony is orchestrated during a gorgeous sunset. The festivities include an air show at 6 p.m. and The Fantastic Firework Finale sponsored by Bank of America will conclude the event at 9 p.m.
Get your Memorial Day weekend off to a great start at the Memphis Zoo Brew 7-10 p.m. May 24. Enjoy the special beer-tasting event with beers from around the world, great food and wonderful music. Tickets are $35 for members and $40 for nonmembers. If you want the VIP treatment which includes early admission, specialty beers and complimentary hors d'oeuvres, tickets are $55 for members and $60 for nonmembers.
Head over to Fort Pillow State Historic Park for their Memorial weekend programming season that includes outdoor activities and programs for all ages. Fort Pillow has archeological and Civil War significance as it has well-preserved Civil War earthworks on the Chickasaw Bluffs on its 1,650 acres with 20 miles of trails which mark the site of the Confederate Army's fortifications, dating back to 1861.
To find your next vacation sweet spot explore tnvacation.com and join other Tennessee travelers following us on Facebook, Twitter, Pinterest, Instagram and YouTube.