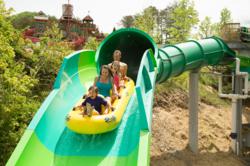 Visitors have every excuse to pack their bags and get away to it all in Tennessee.
Nashville, Tennessee (PRWEB) June 11, 2013
Tennessee buzzes with summer excitement as it welcomes lots of music, splashing fun, outdoor adventures and more. With weekly concerts, the opening of Tennessee's first and only water coaster, rock climbing, spelunking and three statewide and 16 regional trails that uncover gems throughout the state, visitors have every excuse to pack their bags and get away to it all in Tennessee.
Tunes
Jazz up the summer soundtrack by attending Music City Roots, Live from the Loveless Café, a weekly concert and live radio show at The Loveless Café Barn in Nashville. Broadcast every Wednesday night 7 - 9 p.m., the show celebrates and showcases Nashville's extensive music scene from country and Americana to rock, rockabilly, bluegrass and alternative. Music fans can enjoy the diverse talent and taste some good Southern cooking at The Loveless Café.
Chattanooga has a similar musical formula with its Scenic City Roots, Live from Track 29. Scenic City Roots is a monthly, two-hour music variety show starting at 7 p.m. EST that sheds a light on Chattanooga's beautiful scenery and revived local music scene. Tickets are $10 and it's a great way to soak in fantastic music at a variety of music venues.
Stax Museum of American Soul Music in Memphis is celebrating its 10th Anniversary with a year-long celebration. Stax Music Academy students will perform live music one day a week in June at the Stax Museum's Studio A. A new exhibit will open Aug. 20 celebrating the 40th anniversary of the Memphis Chapter of The Recording Academy, highlighting Grammy winners and nominees like Otis Redding, Johnny Cash and others.
Elvis fans from around the world will gather Aug. 10-17 at Graceland for a celebration of the King's life through music, movies and his career. Events include special concerts, dances, panel discussions and much more. The Candlelight Vigil is the cornerstone event, happening Aug. 15 and lasts well into the morning of Aug. 16 as fans participate in a quiet remembrance of Elvis in Graceland's Meditation Garden.
Splash
Cool off at one of the many waterparks and water rides. Wilderness at the Smokies, named 'Top 10 Waterpark Resorts' by Fox News, recently opened Cyclone Racer. It's a four-lane, high-speed waterslide that turns its riders into high-speed drag racers. With a starting point at 50 feet, guests race each other down the spiral course in seconds.
RiverRush, Tennessee's first and only water coaster, is open this summer at Dollywood's Splash Country. Transporting riders four stories in the air, the experience includes four drops, hairpin turns and dark tunnels all with rushing water. Powerful climbs, twists and turns make RiverRush a thrilling water ride.
Have a day full of splashing fun at Nashville Shores minutes from downtown Nashville and home to Kowabunga Beach, voted No. 1 beach in Tennessee by USA Today, which features thousands of gallons of water in 70 interactive features including four colorful water slides, a giant bucket that tips gallons of water every few minutes, water jets and more. Other attractions include Kayak Cove, water slides and the Nashville Shoreliner, a leisurely 20-30 minute cruise along Percy Priest Lake.
Thrill
Have an adrenaline-pumping summer with outdoor adventures across the state. Go to Chattanooga for biking along the Tennessee River on the 13-mile Tennessee Riverwalk and kayak or canoe downtown. The crags are just waiting to be climbed as Knoxville is home to river canyons and numerous giant sandstone boulders nestled in the mountain. Climbers can find over 5,000 different routes within a 3-hour drive of Knoxville. Go spelunking in the Upper Cumberland or skydiving in Nashville. Take in some heart-thumping racing at Memphis International Raceway. With three complete tracks, including a high-performance road course, drag strip and a ¾ paved tri-oval, spectators can enjoy a night of competition and exciting sport racing.
Cruise
Roll the windows down, jam to a favorite song and cruise along Tennessee's Trails and Byways and discover gems throughout the Volunteer State including iconic attractions, historical sites, fantastic eateries and stunning nature. Three statewide and 16 regional trails with names like "Ring of Fire," "Sunny Side," and "Cotton Junction" run through popular Tennessee destinations like Nashville, Memphis, the Great Smoky Mountains and Chattanooga. Make it a day trip or spend a few nights at a Tennessee State Park or bed and breakfast along the route and enjoy authentic experiences in every corner of the state.
To find your next vacation sweet spot explore tnvacation.com and join other Tennessee travelers following us on Facebook, Twitter, Pinterest, Instagram and YouTube.
# # #