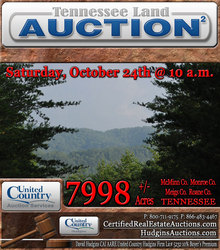 Offering approximately 7,998 acres of Tennessee land will be an amazing real estate auction spectacular
Moultrie, Georgia (PRWEB) September 30, 2009
"Tennessee land auctions" and "real estate auctions" were announced today by United Country Auction Services, for approximately 7,998 acres of prime East Tennessee land for sale. The Auction event has been scheduled for October 24, 2009 at 10:00 a.m. and will be held at the Magnuson Inn in Sweetwater off of Interstate 75, Exit 60 . This magnificent auction event will showcase a variety of Tennessee land to include, timberland, recreational, hunting, fishing, farm, residential, development and investment properties.
"Offering approximately 7,998 acres of Tennessee land will be an amazing real estate auction spectacular," said Jackson, of United Country Auction Services. "We'll offer over 50 properties and over 150 different parcels in 4 different counties. There are multiple small acreage tracts, as well as medium size and large tracts that will be availiable to anyone that registers at the land auction headquarters, online land auction registration or by pre-approved phone bidding. These Tennessee land auction properties will be offered divided at high bidder's choice. The properties which are included in this land auction have a variety of very desirable characteristics. There is no better opportunity to buy land than right now at public auction!"
The Tennessee land for sale is situated in excellent locations throughout 4 Counties in the eastern part of the state at the foothills of the Smoky Mountains and in and near Cherokee National Forrest. This land and acreage is adorned with mountain and water frontage and views. The Counties where the property is located include McMinn, Monroe, Meigs and Roane. These Tennessee real estate auction properties have river frontage on the Big Sewee and easy access to Watts Bar Lake and the Tennessee River. They have miles of paved road frontage on county and state highways, easy access to major roads, including I-75, I-10, and several Tennessee State Highways and County Roads.
Complete property information, maps and land finance is available by contacting United Country Auction Services at 800-711-9175 or visiting CertifiedRealEstateAuctions.com. This auction is being held in cooperation with David Hudgins CAI, Real Estate Broker and Auctioneer, TAL# 5232, and Mr. Hudgins will be in charge of all Real Estate Auction transactions. There will be a 10% buyers premimum added to the high bid price, 15% of the total contract price will be deposited and all bidders will sign a real estate sales contract. United Country Certified Real Estate Marketing program has gathered property information and details on these land auctions can be found online in major media hubs and on Auction Calendars at HudginsAuctions.com.
United Country Real Estate is the largest fully integrated franchise network of conventional real estate and auction professionals in the United States. Based in Kansas City, Mo., the company has been an innovator in real estate marketing since 1925. United Country supports nearly 675 offices across the U.S. and in Costa Rica with a unique, comprehensive marketing program that includes one of the largest portfolios of property marketing web sites (more than 1,000 separate sites), seven proprietary real estate catalogs with a cumulative distribution of 1.5 million, an extensive, current buyer database and national advertising of properties to more than 90 million potential buyer prospects a week. United Country has been recognized as a Top 25 Franchise by the Wall Street Journal and among Entrepreneur Magazine's Franchise 500®. United Country Certified Real Estate: Auction Marketing Firm, conducts real estate auctions and land auctions throughout the United States, to include plantations, farms & acreage, recreational land, timberland, hunting land, waterfront & coastal property, luxury homes, commercial, industrial & development land and lots.
###