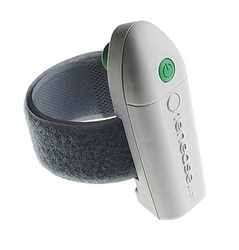 85% reported an acceleration in recovery time due to use of the device
(PRWeb UK) February 25, 2010
Results are now available from the latest clinical study into the use of vibration therapy for the treatment of Tennis Elbow showing a very high effectiveness of Tenease, the MHRA approved medical device for the treatment of lateral epicondylitis (Tennis Elbow).
Patient Profile:
The prospective study was made up of 52 cases of Tennis Elbow. Many of the patients had tried other treatments before Tenease including cortico-steroid injections, physiotherapy, anti-inflammatories and TENS machines. All the patients that had tried these treatments had found them ineffective in relieving the pain and were referred to a surgeon to be considered for possible surgery on their elbow tendon. As an alternative to giving the patients surgery, the study used Tenease, a high frequency vibratory device specifically for the condition, for one month with treatments of only 10 minutes administered three times a day.
Clinical Study Results:
The results of the study were conclusive in that 98% of the participants reported relief from pain when using Tenease and 85% reported an acceleration in recovery time due to use of the device. Full study results are due to be submitted shortly to medical journals for publication.
What is Tenease?
The Tenease device generates high-frequency, mechanical vibration as opposed to electromagnetism, electrical current or shockwaves. It is understood that pain is transmitted as impulses in the large sensory fibres of the body and by applying a vibration to the area of pain, it interacts with the pain impulse transmissions, causing disruption. The vibration is effectively 'scrambling' the sensory impulses to the extent that they cannot be interpreted as pain signals by the brain. This is known as the 'Gate Theory' and is an effective pain relieving method.
Mechanical vibration to the area is also postulated to increase blood flow and speed up healing as the condition is now known to be a lack of inflammation to the tendon, not an inflammatory condition as was previously thought.
Further studies:
Currently, a randomized controlled trial (RCT) to compare Tenease with conventional treatments has been designed and is planned for later this year.
Where to obtain Tenease:
You can purchase a Tenease unit direct from the manufacturers at http://tenease.com for around £60 plus VAT or call 01481 232770 for more information or ordering. Shipping is free in the UK and there is a 30 day money back guarantee.
Tenease.com is a member of the ISIS scheme for safe buying on the internet run by IMRG, the Internet Marketing and Retail Group.
Forge Ltd
Harbour Court
Les Amballes.
St Peter Port.
Guernsey.
# # #