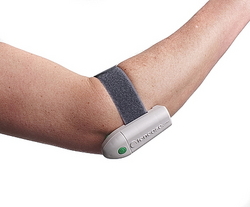 We even had one person get on a plane to come here to buy a Tenease they were so desperate.
Tampa, FL (PRWEB) April 16, 2010
Successful relief from the pain of Tennis Elbow, a chronic tendon condition often unrelated to playing tennis, has until now only been available in the UK and other European countries. US based sufferers of the condition could not obtain Tenease, the leading treatment for the condition, without a costly trip to the UK.
With over 2% of the population suffering from tennis elbow at any one time, it's perhaps surprising that until now there has been no successful tennis elbow treatment available. Now known to be caused by a lack of inflammation to the tendon, the standard treatment used to be rest and anti-inflammatory drugs to mask the pain. Occasionally a painful injection into the elbow tendon was used.
Now, many doctors recommend Tenease as a way of masking the pain without drugs and injections. Tenease works to alleviate the pain of the condition and is also reported to accelerate the recovery of some users. Small, portable and suitable for home use the device straps to the elbow and works with high frequency vibrations to stimulate blood flow to the area and stop the pain by impeding the transmission of the pain signals to the brain.
Developed over the last seven years and patented worldwide, the device has successfully helped thousands in Europe and has now obtained FDA approval for sale in the US with an agent appointed in Tampa, Florida.
Oliver Hutcheon, Managing Director at MLE Ltd, the company behind the device explains…
"Until now, we couldn't sell directly into the US as we didn't have FDA approval or any way of distributing the device. The demand from America was huge and we've been taking enquiries from there since the launch. We even had one person get on a plane to come here to buy a Tenease they were so desperate. With over 5 million sufferers in the US we couldn't keep saying no to them so we recently set about looking for a suitable partner in the US."
MLE have now appointed Bonemed, a Florida based medical device distributor as FDA approved representative and distributor for the device with the first shipment of 25,000 devices hitting the shores of Florida in March. Bonemed Managing Director, Stuart Hutchings was previously Vice President of Sales and Marketing for Corin, an orthopedic medical device manufacturer.
"We're excited to be working with the guys from Tenease and to have the opportunity to distribute the device across the US."
More information on Tenease can be found at tenease.com
Or from: Bonemed llc.
10503 Martinique Isle Drive
Tampa
Florida
33647
Phone: 1 (813) 333 2704
Fax: 1 (813) 333 1170
###