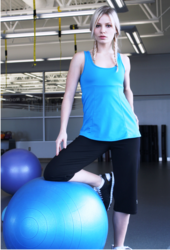 TerraFrog Tennis Tanks fill the niche for celebrities and trendsetters looking for designer sportswear.
Sherwood Park, Alberta (PRWEB) May 16, 2013
Women's fashion and sportswear designer, TerraFrog Athletic Wear, released its latest limited edition Tennis Swing Tank this week in honor of National Tennis Month. The collection is now available for purchase through TerraFrog's online store at http://www.terrafrog.com and at select retailers across Canada.
According to TerraFrog Director, Cori Windsor, National Tennis Month is the perfect time to launch the new tank. Says Windsor, "I can't think of a more fitting time to showcase a top that is specifically designed to fill a niche for players and fashion trendsetters looking for functional, yet stylish, designer tennis wear."
The Tennis Swing Tanks are already creating a lot of buzz with clients and retailers looking for fashionable tennis clothing. Preliminary reviews of the new top have been strong and the tank is leading sales for TerraFrog's 2013 Summer Collection.
About TerraFrog Clothing Corp:
TerraFrog Clothing Corp. is a Canadian athletic wear manufacturer providing unique, high quality sportswear to individuals and select retail outlets. TerraFrog is well known for their exclusive, sporty designs and styles. This stylish lifestyle and casual wear company limits the number of pieces they make despite consumer demand.