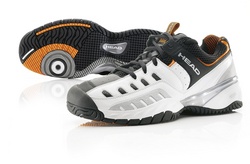 Its benefits guarantee that they can play the game with less fatigue and faster maneuverability.
KENNELBACH, Austria (PRWEB) February 12, 2008
The new line incorporates the HEAD CXG(TM) technology which provides comfort, shock absorption, decreased foot fatigue, stability and motion control. A combination of turned polyethylene, polypropylene, nylon and saran fibres are shaped to form an interlocking coil structure within the sole of the shoe. The coil is then encapsulated within a resilient polyurethane form. When the foot makes contact with the ground, the coil fibres compress and absorb shock. As the foot reaches the end of its stride, the coil structure produces an upward force, much like that of a resilient spring.
"The technology gives players responsive performance on all playing surfaces," said Robert Marte, executive vice president of HEAD's Racquet Sports Division. "Its benefits guarantee that they can play the game with less fatigue and faster maneuverability."
In addition to the HEAD CXG(TM) technology, the line of footwear will also utilize the HEAD Cooling System(R) which creates "climate control" within the shoe by absorbing and releasing excess heat build-up. To ensure constant traction with maximum flexibility, the HEAD Radial Contact(TM) outsole technology is also featured in the footwear line. The Hybrasion outsole technology was developed to enhance resistance for the high stress areas of the tennis shoes.
The tennis shoes are constructed with the highest quality materials while maintaining cutting edge design and a soft, lightweight feel. More importantly, the shoes are made to perform. The footwear can stand up to even the most aggressive tennis player. A special rubber compound and upper material textiles provide added protection and durability to extend the life of the shoe.
The Performance Tennis Footwear line is available now and includes designs for men and women that include:
-- Lightweight performance technology
-- Comfortable materials designed to protect and support
-- The latest colors for sports and fashion
HEAD will provide styles choices for all tennis players, including the Prestige, Extreme, Tour/Icon and All Court shoes.
ABOUT HEAD: Head NV is a leading global manufacturer and marketer of premium sports equipment. Head NV's ordinary shares are listed on the New York Stock Exchange ("HED") and the Vienna Stock Exchange ("HEAD"). The company's business is organized into four divisions: Winter Sports, Racquet Sports, Diving and Licensing. Products are sold under the Head (tennis, tennis balls, squash and racquetball racquets, Badminton equipment, alpine skis and ski boots, snowboards, bindings and boots), Penn (tennis and racquetball balls), Tyrolia (ski bindings), and Mares/Dacor (diving equipment) brands. The company holds leading positions in all product markets and the equipment is endorsed by some of the world's top athletes including Andre Agassi, Ivan Ljubicic, Marat Safin, Svetlana Kuznetsova, Patty Schnyder, Anastasia Myskina, Bode Miller, Johann Grugger, Marco Buchel and Maria Riesch.