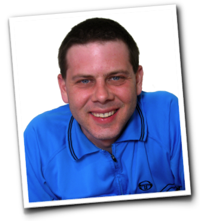 You can double your chances of winning a match by reducing your unforced errors by a mere 12%
Rochesterm NY (PRWEB) December 29, 2011
Scott Thyroff is founder of TennisBully.com, the web's largest tennis serve training website for tennis players and a resource for learning how to improve many aspects of a players tennis game.
Scott released a new article to readers of his blog TennisBully.com that teaches a little known approach to winning more matches by reducing your unforced errors. The definition of an unforced error is a mistake made by the player himself and not due to the opponent's skill or effort such as hitting a shot into the net or long past the baseline.
In this new article, Scott asserts that more improvements can occur by placing the focus on reducing a players errors than on hitting more winning shots. "In our game of tennis, all the emphasis from tennis instructors is on hitting the hardest and fastest point-ending winning shot possible. Instead, a tennis player can often win vastly more matches if instead he puts the focus on reducing his or her own errors," says Scott.
Scott says that there is an over-emphasis on learning strokes and technique in tennis. "However, a tennis player is stunned when I show them that they can double their match win percentage by reducing their unforced errors by a mere 12%."
"If someone wants to learn tennis," says Scott, "then they must focus on improving their technique and reducing unforced errors. That is the golden combination."
In Scott's newest article, he stresses the importance of focusing on consistency and has a player focus on hitting a minimum of 5 shots during a rally. Next, he focuses on the importance of slowing down the game and finally he discusses the importance of footwork.
Scott says, "If I am focusing on my consistency and I am still finding myself missing shots than often it is my footwork that is the culprit."
Where can tennis players learn more? Tennis players can read Scott's new article called "Learn Tennis: How to Reduce Unforced Errors in 6 Easy Steps", by visiting:
http://tennisbully.com/learn-tennis-how-to-reduce-unforced-errors-in-6-easy-steps/
Scott thinks this is important information for tennis players, and asks players to Like his Page on Facebook to learn exclusive tennis tips and tricks. "I'd appreciate your help in spreading the word amongst the tennis community," says Scott Thyroff.
Like this? Check out Scott's last article: Tennis Serve Pro Launches TennisBully.com Teaching Tennis Players how to Learn the Tennis Serve Fast
# # #