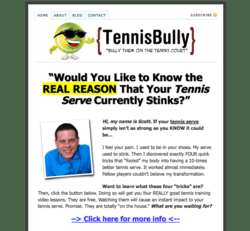 TennisBully.com was recently launched for recreational tennis players, to help them develop a powerful tennis serve.
Rochester, NY (PRWEB) December 22, 2011
Scott Thyroff is founder of TennisBully.com, the web's largest tennis serve training website for tennis players, specializing in quick improvements to the tennis serve.
TennisBully.com was recently launched for recreational tennis players. The new site contains online tennis lessons, videos, articles, and information on improving a players tennis serve and other aspects of their game.
"The tennis serve is the most important stroke in tennis," says Scott Thyroff. "Yet it is treated like an afterthought. We saw a need for specific training about the tennis serve, to teach average people how to have a world class tennis serve," says Scott. "This is why we launched TennisBully.com. We saw a gaping hole in the marketplace that we have filled with our new site."
TennisBully.com was founded by Scott Thyroff, who is a famous teaching professional as well as accomplished tennis player. He played throughout college and has won numerous tournaments in both singles and doubles. He was recently featured by the USTA as tennis family of the year, an award that Scott is quite proud of receiving.
His new site contains numerous online instructional videos that teaches his tennis serve methodology, so that players can learn from anywhere in the world. The videos are also mobile device compatible. "All our videos play on the iPhone or iPad, allowing players to take their mobile device onto the tennis court, hit play, and follow along with the lessons," says Scott.
TennisBully.com features a blog containing numerous instructional articles that can further a tennis players game. One such article is titled "Tennis Serve Tip: A Sure-Fire Way to Have a Consistent Serve" was written to teach players how to increase their serving percentage.
"I encourage tennis players to explore all the free content that we have at TennisBully.com because a player can learn a lot with the resources we have provided on the new site," says Scott.
Where can tennis players learn more? Tennis players can download four online tennis video lessons at no cost titled "4 Instant Ways to Improve Your Tennis Serve" at Scott's tennis serve training website.
Scott thinks this is important information for tennis players, and asks players to Like his Page on Facebook to learn exclusive tennis tips and tricks. "I'd appreciate your help in spreading the word amongst the tennis community," says Scott Thyroff.
###