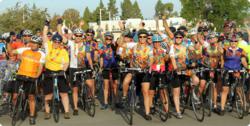 We are riding in support of our friend, artist Teri Hill. The ride helps to raise money to fund research on brain tumors
Los Gatos, CA (PRWEB) October 10, 2012
The Los Gatos back store for back pain relief products, We've Got Your Back, is supporting Team Blast It for the Brain Tumor Ride on Oct. 21. Supporters can join We've Got Your Back's Team Blast It by signing up at braintumorcommunity.org/site/PageServer?pagename=BTR_SV_Homepage. This is a 10-, 25- or 50-mile ride event. Registration begins at 7:00 a.m., and programs and activities start at 7:45 a.m. and continue until noon.
"We are riding in support of our friend, artist Teri Hill. The ride helps to raise money to fund research on brain tumors," Rita Marcojohn of We've Got Your Back said. "Join us again this year by signing up, sponsoring a rider or volunteering."
Donations raised through this event benefit promising research, provide information to support patients who are coping with a brain tumor diagnosis, and support advocacy to improve public policies that will result in better treatments and quality of life for those affected by brain tumors.
We've Got Your Back is also now offering new beaded jewelry made by Rita Marcojohn's mother. She has been creating the designs in her spare time, and during October, the proceeds from these sales are going to the Silicon Valley Brain Tumor Ride. Prices ranges between $10 and $15.
For more information about any of We've Got Your Back's products or services, call 408-395-1122, view the Los Gatos tension relief store on the Web at http://www.back2active-bayarea.com or visit 114 Royce St. in Los Gatos
About We've Got Your Back
We've Got Your Back is a women-owned business that delivers the best-in-class products and services in ergonomic accessories and seating, fitness gear and comfort solutions. Its goal is to provide education, information and products that ultimately eliminate the root cause of back and neck pain. The showroom in Los Gatos was designed to serve the community with educational programs, fitness training and product demonstrations.
We've Got Your Back offers its products and solutions to support the home office, telecommuter or the office workstation with training, chair fittings, ergonomic assessments and lifestyle support programs. Products include ergonomic seating, zero gravity chairs, neck pillows, massage chairs, sit-to-stand desks, doctor-recommended pillows and more.