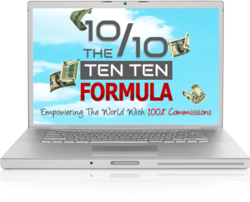 The Ten Ten Formula is a step by step online training program that teaches entrepreneurs how to use blogging to make money while they sleep.
(PRWEB) April 09, 2013
Millionaire Mentor Darren Little also known online as The MLM Superhero has recently launched yet another category creator with The Ten Ten Formula; teaching entrepreneurs how to use a blog to create daily residual income and instant pain relief for their bank accounts.
Little knows the exact paths to success and has grown his enterprise into millions over the past 25 years. He is known as a recognized leader in business, having helped launch 30 products and services over the course of his career.
Little was instrumental in the development of 3 well-known dotcom companies. Two of these sites were in the gaming industry. In addition, he raised over $12 million for AbleAuctions.com. In 1989 Little helped launch Pamela Anderson's career with Labatt's Brewing Company and was instrumental in helping her get her first cover with Playboy.
As a former VP of marketing for Advanced Gaming Technologies, Little utilized his brilliant campaign strategies to raise millions of dollars. The same strategies were responsible for as much as $70 million in trading in a single day with GIC Global Intertainment.
A lot of things have changed in his career in the past 25 years, but one thing has never changed - he is still an entrepreneur at heart. "Looking back at my career, I could have fast tracked myself to millionaire much faster with a mentor" said Little in a recent interview. "I tell my students that having a mentor or coach can help you avoid dangerous mine fields, that in business can be completely fatal. This is a great analogy that helps people really understand how important having a mentor really is."
Little's latest launch in partnership with fellow business mentors Chris and Susan Beesley and one of Little's most successful students Eric Green is The "Ten Ten Formula" a step by step online training program that teaches entrepreneurs how to use blogging to make money while they sleep. These four entrepreneurs are completely changing the landscape of how to make money online.
Little's main focus is on giving average people the specific solutions and mindset training he used to become a millionaire at 35 years old. For Little, being an online marketer; an entrepreneur running his business is not all play and no work. Little added, "My office today is my computer and a phone, and I do enjoy the no commute lifestyle. I love to have fun, but in order to obtain such lifestyle you must have the right mindset, have the right mentors and market a business every day".
According to Little, "The Ten Ten Formula" is a coaching program to help entrepreneurs launch their own business, brand their name, work on the right mindset and tap into their personal power. The team of millionaire mentors and leading marketers shares great insights on how to run a successful online business. Where most companies in this market space create a temporary buzz and short term goals, Little's training provides the most updated marketing resources, top notch personal development training and weekly training webinars to keep affiliate marketing business simple and fun.
Darren Little says "If you are open to change and want to be financially secure, you should seriously consider The Ten Ten Formula."
With the launch of "The Ten Ten Formula" every business partner gets access to the following:

Access to a proven affiliate marketing guide to build an internet business and personal brand
Circle of influence - leveraging the mastermind groups and millionaire mentor-ship within the community
Proven lead generation methods that can provide upwards of 100 leads a day
Traffic resources to generate a flood of new traffic daily
Darren Little has one goal in mind - establishing a community where members can have a big vision and have the right tools to manifest the desired outcome. The MLM Superhero has a mission to inspire them and never give up on their vision. It is about awakening that "superhero" power within each person he comes across.
To find out more about the Ten Ten Formula visit http://www.TheTenTenFormula.com and also get a free copy of MLM Affiliate Magic valued at $197 just for taking the tour.
About Darren Little: Darren Little is the founder of the MLM Superhero brand and a co- author of the MLM Affiliate Magic, an affiliate marketing guide for online entrepreneurs. Little is a contributing author to Chicken Soup for the Network Marketer Soul, a marketing trainer, a biz mentor for over 20 years. Little is available for media interviews and speaking opportunities. To learn more about Darren Little GO HERE