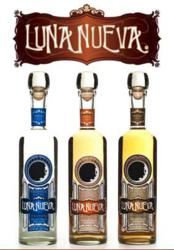 It embodies what aficionados and enthusiasts adore about boutique tequilas: It is a romantic spirit graced with style, class and abundance of character.
-Robert Plotkin
Flemington, New Jersey (PRWEB) December 13, 2012
Armed with a list of prestigious spirit awards, reviews, and eager consumer demand, Luna Nueva Tequila is ready to expand its distribution In the words of Robert Plotkin, mixology and spirits expert, "Since ancient times, the new moon has come to be a symbol of rebirth and new beginnings. It's not surprising that this new luxurious tequila should adopt as its name Luna Nueva, or 'new moon.' It embodies what aficionados and enthusiasts adore about boutique tequilas: It is a romantic spirit graced with style, class, and abundance of character."
Luna Nueva Tequilas first became available in New Jersey in 2011 and have already accumulated a list of distinguished awards from spirit experts such as TEQUILA.net, Spirits of Mexico, Fifty Best, and the San Francisco World Spirits Competition. Luna Nueva has also been featured with high reviews in prominent spirit publications such as Wine Enthusiast and Tasting Panel including making the Top 50 Spirit List for 2012 Wine Enthusiast.
"We strongly believe there is a growing and profitable market for a very high end Tequila offered at a reasonable price. Having an award winning Tequila with uncompromised quality, our commitment to the brand is second to none. Sipping Tequila is a lasting trend along with its popular use in the mixology world in a vast variety of cocktails. As a 24th generation Mexican with roots in Jalisco since the very early 1500's, I believe that Tequila's time has come and we will prove to the world that we can consistently compete with any other high end spirit, now and for many years to come." – Luis Cruz, Managing Partner, Luna Nueva Tequila.
Luna Nueva Tequila is actively looking for strategic partners committed to expand the market of 100% Blue Weber Agave Ultra Premium Boutique Tequilas, the fastest growing segment in the Tequila category. Luna Nueva Tequila is crafted at family-owned and operated Premium de Jalisco (NOM 1558) in Mazamitla, Jalisco, under the direct supervision of third-generation Master Distiller Don Wilfrido Ortega Casas and is produced with 100% Blue Weber Agave from both the lowlands and highlands regions of Jalisco. It is currently available in the sates of Idaho, Ohio, Mississippi, New Jersey and Tennessee.
Are you ready for a new beginning? Celebrate the new moon with an old friend!