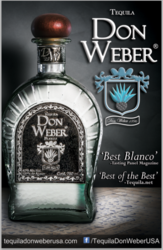 We love the Silver, but also fell for the brand's Reposado, Anejo and the brooding, dark Extra Anejo
San Diego, California (PRWEB) April 25, 2013
Tequila Don Weber, manufactured and bottled in the highlands of Jalisco, Mexico, where only the finest tequila in the world is made, continues to be a hit in the world of tequila. Just last year, Tequila Don Weber was honored with accolades from Tequila.net for having the "Best Highland Blanco," the "Best Highland Reposado," and the "Best Highland Añejo" tequila.
Undisputed connoisseurs of tequila, those of tequila.net, awarded Tequila Don Weber Extra Limited Añejo the prestigious "Judge favorite" award in a blind taste test of 248 tequilas. This prestigious award had to have been agreed to by all of the judges.
Also in 2012, The Tasting Panel Magazine, a nationally syndicated magazine, named Tequila Don Weber's Blanco tequila the "Best Blanco" of the year, giving it the honor of being the only tequila to make it onto the magazine's list, "Class of 2012: Most Outstanding Wines and Spirits of the Year" from all the spirits tasted by the magazine for the entire year. Tequila Don Weber was showcased as one of the "coolest, the newest, the most special and the downright tastiest" products of 2012 and most likely to succeed in 2013.
What sets Tequila Don Weber apart from other tequilas is its sweet, rich flavor and distinct bouquet of natural aromas. In describing Tequila Don Weber's Blanco tequila, Anthony Dias Blue of The Tasting Panel Magazine, a well-respected connoisseur of tequila, described the Blanco as "Aromatic, and soft agave nose; smooth, creamy and mellow with vanilla, spice, nice agave notes and a lush, agave finish: clean, peppery and quite lovely, long and balanced on the finish." They added "we love the Silver, but also fell for the brand's Reposado, Añejo and the brooding, dark Extra Añejo."
Another unique honor enjoyed by Tequila Don Weber is the fact that it was recently selected to be provided for use on the set of the television show "The Big Bang Theory", which filmed in April. Tequila Don Weber has also been provided for use on movie sets such as "Fast and Furious 7", "The Other Woman", starring Leslie Mann, Kristen Wiig and Nikolaj Coster-Waldau to be filmed in May 2012, and "Birdman", starring Emma Stone, Zack Galifianakis and Michael Keaton, due to be filmed this year.
In order to create a tequila worthy of such high praises, Tequila Don Weber uses a process of tequila brewing inspired by thousands of years of tequila production that has been modernized and turned into a science, as well as an art.
The Blanco, or Silver, is pure 100% Agave, doubled distilled. The Reposado is aged 8 months; the Añejo is aged 18 months and the Extra Añejo, Limited Editions is aged 3 years. All are aged in solid white oak barrels, under strict temperature and time controls. They are then bottled in one of a kind artisan, award winning glass bottles.
Mexican law requires that aged tequila be aged for established, minimum lengths of time. For an optimum product, Tequila Don Weber exceeds these requirements, where other tequila producers only strive to meet them. This patience and added effort make a huge difference in the overall taste and quality of the company's tequila. In all, it can take Tequila Don Weber over a decade to produce a bottle of its award winning tequila. Once they are fortunate enough to experience the flavors that Tequila Don Weber has to offer, tequila drinkers wholeheartedly agree that it was well worth the wait.
To find out more about Tequila Don Weber's 100% agave tequila, produced in the highlands of Jalisco, Mexico visit their website at http://tequiladonweberusa.com. For media inquires, contact Andy Stickel of Social Firestarter at Andy(at)socialfirestarter(dot)com or Pam Smith at tequilapam4481(at)yahoo(dot)com.