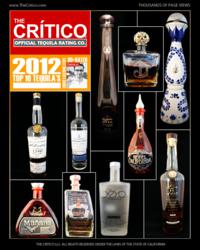 We had the privilege of tasting many great tequila's this year, but only 10 were the best of 2012 -Jose Delapaz, Founder, The Critico LLC.
Beverly Hills, CA (PRWEB) December 13, 2012
It is no secret that The Critico is amongst one of the most respected Tequila Rating Company's in the world. The tasting team is lead by its Founder Jose Delapaz (Certified by the Mexican Academy of Tequila as Tequilier y Catador – Experto en Tequila). So it's with no surprise that this year's top 10 tequila list was highly anticipated by the industry and consumers internationally!
In an interview with The Critico's Founder Jose Delapaz he said, "We had the privilege of tasting many great tequila's this year, but only 10 were personally selected by me as the best of 2012. These are tequila's that not only were rated 90+ points in blind tastings, but also demonstrated the "it" factor. I would like to personally thank the brands selected, they crafted tequila's that are well deserving of being some of the industry's best. In recognition of this year's top 10 tequila's we are issuing special 2012 TOP 10 TEQUILA'S logo to the brands selected, this will help consumers identify these great products".
The Critico's Top 10 Tequila's of 2012 (in alphabetic order):
ArteNOM Tequila - Seleccion de 1146 – Anejo
Don Julio Tequila - 1942 – Anejo
Don Pilar Tequila - XA – Extra Anejo
Nobleza Tequila – Reposado
Hotel California Tequila – Reposado
Clase Azul Tequila – Reposado
DeLeon Tequila – Anejo
Manana Tequila – Anejo
Ocho Tequila - 2009 Agaves De Rancho Las Pomez – Plata/Blanco
Yeyo Tequila – Silver/Blanco
View Tequila Ratings for all the brands above at http://www.TheCritico.com
–End of News–
About The Critico:
The top 10 tequila's were selected from the list of tequila's that were rated 90+ points in 2012.
Tastings/ratings:
Tequila ratings on The Critico's web site are performed in blind tastings by a minimum of three of The Critico's Tequila Taste Masters, of which a minimum of two must be certified as Tequilier & Catador by the Academia Mexicana del Tequila (Mexican Academy of Tequila).
Products The Critico rates:
The Critico only rate tequila that is produced from 100% Blue Agave. To read the regulations established by Consejo Regulador del Tequila, A.C. (Tequila Regulatory Council) on what can be named 100% Tequila please visit http://www.crt.org.mx
The Critico LLC:
http://www.TheCritico.com
If you would like to recommend a product for The Critico to include in future 2013 ratings, please e-mail info@thecritico.com, they are adding new tequilas every month and would love to hear from you.