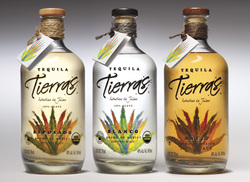 New York, NY (PRWEB) April 22, 2009
Castle Brands Inc. (AMEX: ROX), an emerging international spirits company, today announced that its Tequila Tierras Blanco won a Gold Medal and its Tequila Tierras Reposado won a Double Gold Medal at the prestigious San Francisco World Spirits Competition.
Peter Pace, National Brand Director for Tierras, said "I have been in the spirits industry for over 20 years in one form or another, and have had the pleasure and privilege of working on some great brands. Tequila Tierras is undoubtedly one of the most rewarding and fulfilling brands I have worked on. It is not only delicious, unique and exciting but it has arrived in a very timely fashion. This is an amazing brand, not just in its outstanding quality but the social relevance of a 100% USDA Organic Tequila. Fun, delicious, and relevant. What more could you ask for?"
More about Tequila Tierras
Castle Brands became the exclusive importer and marketer of Tequila Tierras® in the United States in February of 2008. It is the first USDA ORGANIC TEQUILA in the United States. It is hand selected, and hand made from 100 percent organic blue agave grown at the finest organic farms in Jalisco, Mexico. Its three grades, Tequila Tierras Blanco, Tequila Tierras Reposado, and Tequila Tierras Añejo, are hand crafted, small batch tequilas produced using traditional methods that have been handed down for 5 generations through the Orendain family.
More about Castle Brands Inc.
Castle Brands is an emerging developer and international marketer of premium branded spirits within five growing categories of the spirits industry: vodka, rum, whiskey, tequila and liqueurs. Castle Brands' portfolio includes Boru® Vodka, Gosling's Rum®, Sea Wynde® Rum, Knappogue Castle Whiskey®, Clontarf® Irish Whiskey, Jefferson's™ and Jefferson's Reserve® Bourbon, Sam Houston® Bourbon, Tequila Tierras® Blanco, Reposado and Añejo, Celtic Crossing® Liqueur, Pallini® Limoncello™, Raspicello™ and Peachcello™ and Brady's® Irish Cream.
Forward Looking Statements
This press release includes statements of our expectations, intentions, plans and beliefs that constitute "forward looking statements" within the meaning of Section 27A of the Securities Act of 1933 and Section 21E of the Securities Exchange Act of 1934 and are intended to come within the safe harbor protection provided by those sections. These statements, which involve risks and uncertainties, related to the discussion of our business strategies and our expectations concerning future operations, margins, profitability, liquidity and capital resources and to analyses and other information that are based on forecasts of future results and estimates of amounts not yet determinable. We have used words such as "may," "will," "should," "expects," "intends," "plans," "anticipates," "believes," "thinks," "estimates," "seeks," "expects," "predicts," "could," "projects," "potential" and other similar terms and phrases, including references to assumptions, in this press release to identify forward looking statements. These forward looking statements are made based on expectations and beliefs concerning future events affecting us and are subject to uncertainties, risks and factors relating to our operations and business environments, all of which are difficult to predict and many of which are beyond our control, that could cause our actual results to differ materially from those matters expressed or implied by these forward looking statements. More information about these and other factors are described under the caption "Risk Factors" in Castle Brands' Annual Report on Form 10-K for the year ended March 31, 2007 filed with the Securities and Exchange Commission.
When considering these forward looking statements, you should keep in mind the cautionary statements in this press release and the documents incorporated by reference. New risks and uncertainties arise from time to time, and we cannot predict those events or how they may affect us. We assume no obligation to update any forward looking statements after the date of this press release as a result of new information, future events or developments, except as required by the federal securities laws.
ROX-G
For photography and more information on Castle Brands, contact:
Donna M. Hibbert
Marketing Assistant
Castle Brands Inc.
122 East 42nd Street
New York, New York 10168
Phone: 800-882-8140
http://www.castlebrandsinc.com
For Investor Relations, contact:
ICR
Kathleen Heaney (203) 803-3585
###