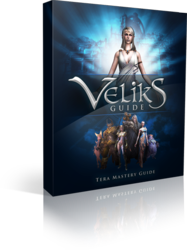 (PRWEB) May 10, 2012
Tera Online is one of the lesser-known but action-filled MMORPs (Massively Multiplayer Online Role Playing Game), offering gamers a high-quality alternative to the standard titles. The game is well-developed, with an extensive story and seven different layers of character classes. Additionally, there is a robust quest line, complex war situations and an extensive crafting system, among other elements that define a well-developed RPG and situates it as the next potential blockbuster. The sorcerer class has special attributes and qualities which offer unique challenges to the Tera Online player. While this class can inflict massive amounts of damage to the enemy, it is also particularly vulnerable to attack (source: tera.wikia.com/wiki/Sorcerer). Veliks Tera Guide is now available, which also contains a Tera Online Sorcerer guide. It addresses players interested in the sorcerer class and shows how to navigate issues of leveling, build and mastery with this particular class.
The Veliks Guide, with more information at veliksteraguide.com, features a complete step-by-step walkthrough of Tera Online, including all of the quests and also advising on which quests players should skip. The original guide also contains a general class guide and also tested PVP and PVE builds that will help players to quickly reach level 60 in as short of a period of time as possible. It also contains additional information about the quickest way to build the sorcerer's class of mastery, when it is most appropriate for the sorcerer class to use its healing or attack qualities and also, since the sorcerer class is more vulnerable to enemy attack than other classes, how best to protect this class from enemy attack.
Veliks Tera guide is developed by a small and dedicated team of pro gamers, all of whom have personally completed the game in its entirety. They have received many accolades for their work, including awards for their most popular guide, the AEON guide for Star Wars: the Old Republic. The Veliks tera guides reflect the same quality and thoroughness as their previous work.
The guide features the following:

A complete walkthrough of the game including which quests to pursue and which ones to avoid.
A Class guide detailing which skills to use, which ones to build and how to combine the forces of all the character classes to make a formidible team.
The sorcerer guide features information on how to develop the sorcerer class to its greatest attack and healing powers, which are usually found between the 48 and 60 level.
An extensive list of items and gear to be found throughout the game and relevant item statistics.
More details about Veliks Guide are available at http://veliksteraguide.com.