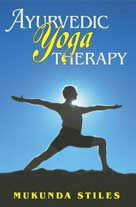 This book is an excellent introduction in how Yoga and Ayurveda can provide a comprehensive body, mind and spirit approach.
Miami, FL (PRWEB) October 05, 2012
Ayurmed has recently announced that is will publish "Terapia de Yoga y Ayurveda" in Spanish. The book will be available via Amazon or directly through the publisher and through Libros Ayurveda.
Ayurmed is also the publisher in Spanish of Ayurveda y la mente by Dr. David Frawley (Ayurveda and the mind) and Dr. Marc Halpern ¿Cómo sanar su vida? (Healing your life).
Mukunda steers away from an increasing tendency to 'medicalize' yoga therapy by avoiding prescriptive recommendations for specific medical diagnoses. He presents sequences of Vinyasa and pranayama suited to the various Ayurvedic body types. Yoga therapists and practitioners using this book can access a deeper level of preventative self-care, attuning to the rhythm of each individual. Enlivened by wisdom teachings, it provides food for body, soul and spirit, guiding practitioners towards fulfillment of their potential.
Mukunda is the Director of the Yoga Therapy Center, Holyoke, MA and author of Structural Yoga Therapy, Yoga Sutras of Patanjali and the recently published, Ayurvedic Yoga Therapy.
After his army service, he pursued an economics degree at the University of California – Davis. Being a Pisces he has two sides, for his spiritual side needed a little balance, so he began to teach psychic healing and yoga. In April of 1974, he had another abrupt meeting with destiny through Swami Muktananda who initiated him into a deeper level of spiritual life through the Tantrik Kundalini process of Shaktipat. The effect of this deeper connection with Spirit was profound. "My life has never been the same". He moved into a new direction and received a degree in religious studies with a thesis on Patanjali's Yoga Sutras. Baba Muktananda encouraged him to make Yoga his profession and gave him the name Mukunda, an aspect of the Divine Presence as the compassionate liberator. Mukunda was certified to teach Muktananda's meditation method, as well as hatha and raja yoga. Baba authorized him to give spiritual initiation (Dhivya diksha), give spiritual names, and to transmit Shakti Kundalini awakening through the formerly secret process of Shaktipat. He continues this tradition through individual sessions as a spiritual mentor.
For more information about the release, please visit ayurmed.org