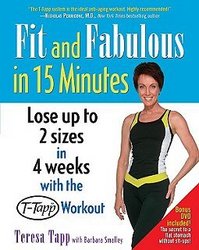 Don't be shy - enlist friends and family members to help you maintain and sustain your fitness resolutions
Tampa Bay, Florida (PRWEB) January 9, 2009
Now that the New Year has begun, best selling author and muscle activation/fitness expert Teresa Tapp has announced her Shape Up Success Pep Talk for 2009. Tapp is the author of Fit and Fabulous in 15 Minutes, which ranked number one on Amazon's Mover's and Shakers List in 2008. An internationally renowned muscle activation specialist, Tapp developed T-Tapp, a revolutionary rehabilitative fitness program that has helped countless women to experience fast and lasting results, with some losing over 100 pounds. each. New York Times best selling author Nicholas Perricone, M.D. included 15 pages on T-Tapp in his book "Dr. Perricone's 7 Secrets to Beauty, Health, and Longevity," and he has highly recommended the T-Tapp system as the ideal anti-aging workout. Tapp has appeared on ABC, NBC, CBS, PBS, FOX, and UPN affiliates across the country and has been quoted in numerous publications including Woman's Day, Woman's World, Fit and Parade. For more information visit http://www.t-tapp.com
Teresa Tapp's Shape Up Success Pep Talk
Prepare for Success
January 1st is the biggest day of the year for gym membership sign ups and marketing. Suddenly everyone seems to be pumping iron, working out, and eating rice cakes. In truth, by jumping on the January gym bandwagon, people can set themselves up for failure. Tapp notes, "Drastically rearranging your life around a workout schedule may seem like a good goal, but in reality, very few people can make such a radical change and sustain it. Instead, strive to dedicate just 15 minutes day to fitness and turn everyday activities into exercises."
Cheat Wisely.
Everybody cheats. The trick is to be smart about it. Tapp says, "Diets of denial don't work, so use some reverse psychology and don't be fixated on what you can't have. If you give yourself a break from guilt, then you won't feel the need to eat the entire bag of chips or box of cookies." Tapp also advocates being good for two days and cheating on the third, along with a healthy session of cardio exercise to offset calorie consumption and ramp up the metabolism.
Throw away the scale.
It's not about a number, it's about how you feel. According to Tapp, "You might be a lot heavier with strong, lean muscles, but you'll find that you drop clothing sizes easily. Focus on being fit and healthy for your body type, not trying to attain some unrealistic number on a scale."
New Years Resolutions don't have expiration dates.
"Everybody falls off the wagon, even me," Tapp states. "That's okay. Every day is the first day of the rest of your life. Wake up and move on."
Find a support system.
"Don't be shy - enlist friends and family members to help you maintain and sustain your fitness resolutions," Tapp advises. "You might be surprised at how much your positive attitude will inspire people to make healthy changes in their lives as well."
Fitness begins with your feet.
"Most people don't realize that your big toe is connected to your tummy," Tapp reveals. "When you put mind-to-muscle focus on your big toe, you actually engage your stomach area muscles. Try lifting your knees and pointing your toes. You should feel it in your tummy." For trimming and toning while standing or sitting, Tapp recommends pressing the ball joint of your big toe into the ground and lifting your big toe as hard as you can. The higher the arch of your foot lifts, the more you're activating your abs. Follow with a few quick pointed-toe lifts. Tapp adds that if you're walking, point and flex with each step, putting your weight on your outer three toes while keeping your feet straight, and activate those muscles to circulate lymph, remove cellular waste, and reduce inflammation.
###