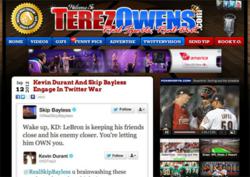 Los Angeles, CA (PRWEB) September 13, 2012
Recognized as the leading sports gossip site on the web, TerezOwens.com is adding three new fun sports blogs to its growing network. Starting a fantasy football gossip site, JuanElway.com, MMA gossip, TitoCouture.com and NBA Gossip, MenudoBol.com, each site will be sport specific and updated with the most recent sports celebrity headlines and happenings.
JuanElway.com will be a heaven for fantasy football gurus. There you will find predictions, position rankings and analysis on upcoming matchups. In true Terez fashion, fans can also find fun football gossip that will keep you coming back every day. Terez also struck gold by creating TitoCouture.com, which covers the latest gossip in the MMA world. Terez recognized the rapid growth of the sport and knew audiences would love to get insight on the life outside of the octagon. Rounding up the trifecta, MenudoBol.com provides the latest NBA gossip. This site could not have come at a better time as the 2012 NBA Finals soared in the ratings.
Before the TerezOwens network expanded, TerezOwens.com alone quickly gained ground on the web by combined three of the rising Internet media platforms: blogging, social media and online gossip. This dynamic combo has continued to drive over 10 million page views a month to the site and has made it the leading source in sports gossip and sports celebrity news.
The success of TerezOwens.com was recognized in the sports community as the best sports gossip blog by ESPN the Magazine in 2011. Their breaking stories have been featured on the front page of US Weekly, Huffington Post, NYPost, TMZ, PerezHilton, e!News, FoxSports, RadarOnline and ESPN. When recently featured on Pardon the Interruption, ESPN writer Bill Simmons even called TerezOwens.com the "legacy of former wide receiver Terrell Owens. "
The growing TerezOwens empire demonstrates the brilliance of Terez and the relentless effort to find new and progressive ways to bring fans of every sport the latest gossip and news.
About TerezOwens.com
TerezOwens entered the internet world in March 2009 and quickly gained a dynamic reputation as the leading sports gossip site in this day and age. During the ESPY Awards in Los Angeles, many sports celebrities gave a shout out to their favorite gossip website. Tim Tebow, Stephen A. Smith, Stuart Scott, Blake Griffin and Erin Andrews gave their approval. Watch a video of the TerezOwens Reel at http://www.youtube.com/watch?v=K3g1046-tMQ