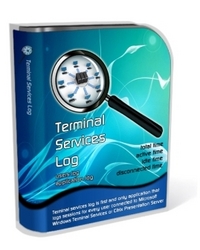 (PRWEB) March 4, 2009
TSL Inc. has released Terminal Services Log v. 2.2, a powerful Windows application that makes it easy to monitor user activities on your Terminal Server / Citrix. System administrators use Terminal Services Log to detect unusual or abusive computer usage, to prevent malfunctions, and to monitor Terminal server / Citrix resources and usage.
Unlike complicated server monitoring software, Terminal Services Log allows IT managers and business managers to monitor their employees' computer activities in real time. The software logs sessions for every user connected to Microsoft Windows Terminal Services or Citrix Presentation Server (XenApp). It also works with Quest VAS, Ericom Powerterm, and other application delivery solutions.
The software makes it easy to learn which employees are actively using their computers, and which workers' computers are inactive. Terminal Services Log's intuitive interface and easy-to-read reports and charts allow management to see immediately how terminals are being used throughout the enterprise. You can track the applications that are running, the licenses that are being used, and the IP addresses and hostnames that employees are using to connect to the Terminal server / Citrix.
Daily, weekly, and monthly charts and reports can be viewed online. For areas of interest or concern, you can drill down for more details. Reports can also be exported to Excel or PDF format, or emailed automatically to managers.
The software helps system managers determine which applications or combinations of software are causing system slowdowns and crashes. It's easy to learn exactly which applications were running during troublesome periods, and isolate software which might be causing system problems.
Many regulatory agencies require that companies establish comprehensive information security plans. Terminal Services Log simplifies compliance with Sarbanes-Oxley, HIPAA, PCI DSS, FISMA, and other regulations. By centrally monitoring and reporting all users' computer activity, the software provides a comprehensive monitoring solution that facilitates legal compliance.
Terminal Services Log can monitor and ensure that only properly licensed software is being used throughout the network. You can view summary-level reports that show which applications are being used. After detecting unlicensed or unauthorized software being used, it's easy to determine which user is running it.
Terminal Services Log simplifies the monitoring of an entire server Terminal Services or Citrix farm. Data from each server is stored in the central database, allowing you to monitor your entire farm from a single administrative console. It's easy to compare individual server loads.
Whether you're a system administrator who wants to improve server usage, an IT manager who needs to understand individual computer users' terminal activities as well as overall usage, a corporate compliance manager who needs to ensure that regulations and licensing contracts are being honored, or a network manager who wants to monitor and optimize the company's infrastructure, Terminal Services Log has the tools that you need.
Terminal Services Log v. 2.2 runs under Windows Server 2000/2003/2008, both x86 and x64 versions. Prices begin at $299(US) per server. You can download a free 30-day trial version from Terminal Services Log download trial.
For more information, contact TSL Inc., +1 (360) 200-4299
Internet: Terminal Services Log.
###