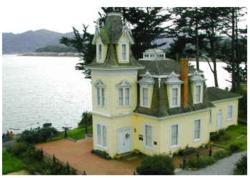 Altriset is the smart choice for conscientious homeowners for an effective, greener treatment and comes with a five-year warranty
San Rafael, CA (PRWEB) November 03, 2011
Termite inspection company, Marin Termite Control Co., Inc. is pleased to announce they are offering a greener way for customers to have highly effective subterranean termite treatments and pretreatments. Using a termiticide no longer means choosing to protect your home or the environment. Altriset has both unparalleled termite protection and an excellent environmental profile. DuPont Altriset Termiticide is a non-repellent termiticide that provides outstanding termite control and has minimal impact on the environment. According to studies, Altriset halts termite feeding within hours while providing termite elimination for critical long-term structural protection. Altriset also offers an excellent toxicological and environmental profile. Altriset is the first and only liquid termiticide to be classified as reduced-risk under the U.S. EPA reduced-risk program.
Altriset uses a natural substance found in the bark of trees and shrubs of the genus Ryania. Calteryx is the active ingredient in Altriset and it is rapid, effective and long lasting but with a toxicity level so low it has no known effect on humans, pets or plants. That's not only great news for concerned homeowners and tenants, but also for Marin Termite Control Co., Inc. who perform treatments on a daily basis.
Marin Termite Control Co., Inc. has been successfully using the product over the past year with no call-backs.
"Altriset is the smart choice for conscientious homeowners for an effective, greener treatment and comes with a five-year warranty. We recommend periodic inspections to detect infestations early before damage occurs," said Phil Beaubois of Marin Termite Control Co., Inc.
Call Marin Termite Control Co., Inc. today at 415-456-9620 or visit http://www.marintermite.com for more information about its products and services.
About Marin Termite Control Co., Inc.
Marin Termite Control Co., Inc. is a local family owned and operated business proudly serving Marin and Sonoma since 1971. They provide termite inspections and treatments to keep not only your house safe, but also continually strive keep the family safe and protected from any pesticides that may cause harm. They can help with wood boring beetle treatment, carpenter ant control and carpenter bee control.
###