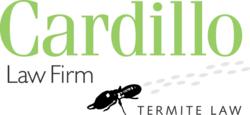 You don't have to accept what the termite company is saying when they deny the claim.
Tampa, Florida (PRWEB) November 06, 2012
A jury (Case# 05-2009-ca-040695 Eighteenth Circuit Court of Brevard County, Fl) has found in favor of a St. Cloud, FL family forced to evacuate their home because it was ravaged by termites, slapping Apex Pest Control with a judgment of $218,000 in damages for failing to properly inspect and treat the home for termites. The Brennan family was represented by Florida termite attorney Peter Cardillo who focuses his practice on termite litigation.
School teachers Sean and Marny Brennan, and their young daughters, thought they'd moved into their dream home. Months later they discovered termite damage so bad they were forced to abandon the house on orders of engineers, who said the house was unsafe. "We had to pack up, find a place to move and give up our dogs, because we could not take them with us," Marny Brennan said.
According to court documents, the Brennans thought the termite warranty from Apex Pest Control had them covered. Apex had treated the home since 1999, and its repair warranty promised coverage of up to $1 million, Sean Brennan said, adding, "If I had any termite damage, they would fix it, repair it." But Apex denied the claim, saying it didn't find any live termites, an exclusion in the contract.
The Brennans hired termite attorney Peter Cardillo, who claimed the live termites clause was buried in fine print and violated state regulations. "The judge ruled that was an illegal provision under Florida law, so the jury could not hear about that," Cardillo said.
The jury found the company violated its warranty and ordered Apex to pay the Brennans $218,000 in damages, according to court documents.
The termite-damaged home is in St. Cloud, FL and the trial was in Brevard County, but the jury's verdict could help homeowners across Florida. Consumer experts believe it could set a precedent for other termite warranties.
"You don't have to accept what the termite company is saying when they deny the claim," said Cardillo.
About: Cardillo Law Firm is a Tampa, Florida based termite property damage and plaintiffs litigation firm devoted to the area of termite damage and property insurance law. The firm represents residential and commercial clients throughout the State of Florida, who have experienced termite damage as a result of faulty exterminator treatment. This includes cases involving termite control company liability, termite damage insurance claims and claims against sellers of termite damaged property. http://www.cardillolaw.com