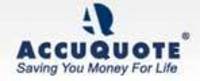 Like with any major purchase, it's important to know all the facts about permanent and term life insurance so you can make wise decisions.
Wheeling, IL (PRWEB) September 8, 2008
AccuQuote, a leader in providing term life insurance quotes to people across the United States, highlights the most common mistakes people make when buying permanent and term life insurance.
"You wouldn't buy a house without first checking out comparable sales, the schools and neighborhood, or a car without first comparing it to others in the class or taking it for a test drive," says Byron Udell, founder and chief executive officer of AccuQuote. "Like with any major purchase, it's important to know all the facts about permanent and term life insurance so you can make wise decisions."
Udell says a good way to start is to learn from the common mistakes most people make when shopping for a permanent or term life insurance policies. Here are some definite things to avoid when comparing permanent and term life insurance quotes:
1. Don't let premiums define the decision - The permanent or term life insurance rate shouldn't be the only consideration when it comes to decision making. It's also important to factor in the financial strength/integrity of the life insurance company quoted, as well as important product features such as renewability privileges, conversion rights, available riders and how long the permanent or term life insurance rates are guaranteed.
2. Don't automatically buy term life insurance - While term life insurance is an appropriate type of insurance for most people as it is extremely affordable life insurance, other types of life insurance policies, such as return of premium term life insurance, universal life insurance, or second-to-die life insurance policies may be a better choice in certain situations. Be sure to check with an experienced licensed agent that deals with both permanent and term life insurance.
3. Don't consider illustrations as fact - If buying anything other than term life insurance, keep in mind that columns of numbers in life insurance illustrations are generally only projections of what may or may not happen in the future. They are not guarantees (unless the column has the word "guaranteed" in it). The company's interest rates may decline and earnings may not be sufficient to cover the premium in the future, and/or mortality costs could rise in non-guaranteed contracts, sometimes necessitating significant additional out-of-pocket payments.
4. Don't think that buying life insurance is a one-time activity - Evaluating life insurance needs is an activity that must be conducted on an ongoing basis. A life insurance needs analysis should be conducted at least every 2-to-3 years because circumstances change (marriage, divorce, or birth) and the amount of life insurance may no longer be adequate.
5. Don't cancel a life insurance policy when until a new one is in force - Sometimes it is appropriate to switch life insurance companies, especially since term life insurance rates have dropped dramatically over the past 10 years. But before dropping an existing life insurance policy for a new low cost life insurance policy, make sure the new one is in force.
About AccuQuote:
AccuQuote helps consumers find the best values in term life insurance by combining instant online quotes with the personal service of unbiased life insurance professionals that can help answer questions, identify important issues, and make meaningful recommendations. The company offers consumers an extensive selection of life insurance options, including term life, whole life, and universal life, as well as selected annuities. The website has many handy insurance tools, including a life insurance needs calculator to help you figure out how much to buy, a glossary that explains industry terminology, a collection of articles that cover the basics about life insurance, and a blog which answer many questions about life insurance. For additional information or to get quotes for cheap term life insurance, please call 1-888-314-4455..
###