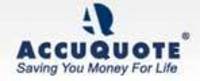 However, term life insurance isn't
Wheeling, IL (PRWEB) April 29, 2009
When purchasing term life insurance, there are several things consumers should consider before making a decision. Determining how much to buy is one of the more important things on that list to ensure one's family is adequately protected. AccuQuote, a leader in providing term life insurance quotes to people across the United States, provides tips that will help consumers when deciding how much term life coverage to buy.
"Many financial experts recommend buying a term life policy equal to 7 to 10 times a persons salary," says Byron Udell, founder and CEO of AccuQuote. "However, term life insurance isn't "one size fits all" and therefore 'rules of thumb' don't always work for everyone."
Udell uses the example of a person that makes $50K annually and dies at 40 years old. If that person planned on working until the age of 60 and lived, they would have made at least $1 million more in their lifetime, probably a lot more.
"So, even though say, $250K may seem like a lot when you are purchasing a life insurance policy, it will not come close to replacing the income you would have made during your lifetime," says Udell. "When you think of it in these terms, you may be surprised at how much you really need."
In fact, most American's are grossly underinsured:

Half of the adults in the US have no individual life insurance at all. Whatever they do have is usually some token amount they get free at work.
The other half, that DO have individual life insurance, have an average of less than 3x their annual income!
So, how does one determine the right amount of term life insurance for their family? AccuQuote strongly recommends taking the following steps:

Talk to an experienced life insurance agent. This can be done either by phone, or in person. A professional can help provide guidance through the entire process. Unlike a computer, an agent can take into account your individual situation and needs.
Use a life insurance needs calculator - these calculators are very helpful in providing you with a much more accurate calculation of how much term life insurance you probably need.
"It's easy to find affordable life insurance when you use the Internet," says Udell. "And term life insurance rates are lowest in history. You'd be surprised just how affordable a term life policy can be." For example, a healthy 40-year old male nonsmoker can buy a $500,000, 20-year level term policy for less than $32 a month.
About AccuQuote
AccuQuote helps consumers find the best values in term life insurance by combining instant online life insurance quotes with the personal service of unbiased life insurance professionals that can help answer questions, identify important issues, and make meaningful recommendations. The company offers consumers an extensive selection of life insurance options, including term life, whole life, and universal life, as well as selected annuities. The website has many handy insurance tools, including a life insurance needs calculator to help you figure out how much to buy, a glossary that explains industry terminology, a collection of articles that cover the basics about life insurance, and a blog which answer many questions about life insurance. For additional information or to get quotes for cheap term life insurance, please call 1-888-314-4455.
###