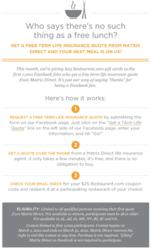 San Diego, CA (PRWEB) March 06, 2012
Matrix Direct, a leading provider of direct-to-consumer term life insurance, is offering its Facebook fans a chance to earn $25 Restaurant.com gift cards by getting a free term life insurance quote.
Consumers can visit Matrix Direct's Facebook page to enter the promotion. Entry information and contest rules can be found on the Facebook page's Contests & Promotions tab.
The first 1,000 people who "Like" Matrix Direct on Facebook and receive a free, no-obligation quote from a Matrix Direct agent this month will get a $25 Restaurant.com code. Consumers may then redeem their coupons at participating restaurants of their choice.
In addition to dispelling the common notion that "there's no such thing as a free lunch," Matrix Direct's new promotion encourages people to take the first step toward protecting their financial futures.
Buying a term life insurance policy can be a great foundation on which to build a solid financial plan and a great way to help financially provide for a spouse, child, or other loved ones. For less money than most people spend on coffee each month, consumers can help protect their family's financial future with affordable and reliable term life insurance coverage.
About Matrix Direct
Matrix Direct, Inc. is one of the country's leading life insurance agencies. Over five million Americans have contacted Matrix Direct for the best term life insurance quotes. Matrix Direct, Inc. is a subsidiary of American General Life Insurance Company, Houston, TX and an affiliate of The United States Life Insurance Company in the City of New York, NY, NY. Agency services provided by Matrix Direct Insurance Services in CA (#0B57619), ME, MA, and OK; Matrix Direct Insurance Agency, Inc. in UT; and Matrix Direct, Inc. in AR(#246412) and all other states, except SD.
###