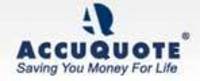 A permanent life insurance policy is a type of 'forced savings' plan. However keep in mind, assuming the same death benefit, they premiums on these types of plans are generally 5-12 times as much as a level term life insurance policy
Wheeling, IL (PRWEB) May 19, 2008
During this time, where good investments are hard to come by, some life insurance agents are touting permanent life insurance policies as an attractive alternative. However, AccuQuote.com, a leading provider of affordable term life insurance quotes, advises as with any "investment", it's important to know the pros and cons of permanent life insurance policies before deciding whether or not to buy one.
The basic difference between term life insurance and permanent (whole or universal) is this: On the death of the insured, both term life insurance and permanent policies pay a death benefit to the named beneficiary. However, permanent life insurance plans include "living values" in the form of cash values. These values can be accessed in the form of policy loans, withdrawals, and also by surrendering the policy.
"A permanent life insurance policy is a type of 'forced savings' plan. However keep in mind, assuming the same death benefit, they premiums on these types of plans are generally 5-12 times as much as a level term life insurance policy," says Byron Udell, founder and CEO of AccuQuote. "A permanent policy will typically not work out well for you unless you're prepared to stick with it for a long time. Unfortunately, most people aren't able to afford the face amount of insurance they need to protect their family in a permanent insurance chassis. Even if they stretch their budget to buy permanent coverage, they often lose the faith and bail out too early. When this happens, they find out that they'd have been better off never having started the plan. They have no life insurance protection, and the surrender values add up to abysmal results on the 'investment' side of the transaction."
Udell prefers term life insurance for most people because it is affordable, making them less likely to lapse their policy. "The main purpose of having a life insurance policy should be to protect your family," says Udell. "Term life insurance accomplishes this need for a lot less. If you are determined to consider permanent coverage, you might consider the old adage, 'buy term life insurance and invest the difference'. Simply take the cost difference between a permanent policy and term life insurance policy and invest that money."
According to AccuQuote, at today's rates (which are the lowest in the history of life insurance), the annual premium for a 40-year-old male (non-smoker) in good health for a $500,000, 20-year term level term life insurance policy is only about $350!
To get a real sense of the value of term life insurance, let's compare term life insurance quotes and universal life quotes. A healthy 40-year-old nonsmoking male would have to pay about $3,000 per year to acquire a $500,000 universal policy. For the first few years, most of these policies have zero surrender value. But say he had instead invested $2,650 (the difference between $3,000, the cost of the universal policy, and $350, the cost of a term life insurance policy) in a mutual fund that averaged a total return of 10% annually. At the end of the first year, he'd have $2,841, accounting for taxes on the earnings at a 28% rate. At the end of 10 years, he would have accumulated more than $46,000 in after-tax savings in the mutual fund. Over the same period, the cash value of the policy would likely only have climbed only to about $21,558.
AccuQuote provides these tips when comparing term life insurance quotes:

Comparison shop but don't get lured by a "come on" life insurance rate
Buy a term life insurance policy worth at least seven to ten times the breadwinner's annual salary
Buy from a reputable term life insurance company that is financially stable
Review life insurance needs every 2 to 3 years
About AccuQuote
AccuQuote helps consumers find the most affordable term life by combining instant online quotes with the personal service of unbiased life insurance professionals that can help answer questions, identify important issues, and make meaningful recommendations. The company offers consumers an extensive selection of life insurance options, including term life, whole life, and universal life, as well as selected annuities. The website has many handy insurance tools, including a life insurance needs calculator to help you figure out how much to buy, a glossary that explains industry terminology, a collection of articles that cover the basics about life insurance, and a blog which answer many questions about life insurance. For additional information or to get quotes for cheap term life insurance, please call 1-888-314-4455.
###