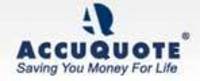 Unfortunately, many consumers buy life insurance policies based on price alone. However, you shouldn't assume that you qualify for the lowest priced policy, especially if you don't meet the health and lifestyle criteria
Wheeling, IL (PRWEB) July 22, 2009
AccuQuote, a leader in providing term life insurance quotes to people across the United States, advises those shopping for term life insurance quotes to compare value vs. price before making a buying decision.
"Unfortunately, many consumers buy life insurance policies based on price alone. However, you shouldn't assume that you qualify for the lowest priced policy, especially if you don't meet the health and lifestyle criteria," says Byron Udell, founder and CEO of AccuQuote. "The reality is that there is much more to consider such as the company's financial ratings and additional features that may be beneficial to you in the future," says Byron Udell, founder and CEO of AccuQuote.
Udell suggests consumers shopping for life insurance consider the following tips to ease the decision-making process:
•Look for a Company that's Rated A- or Better - "If a life insurance company is not financially stable, they may not be around to pay the death benefit, leaving your family in the cold when you are no longer around," says Udell. Check out AM Best and Company for financial ratings.
•Understand the Policy Features - "Many term life insurance policies offer special features, such as renewability rights, full convertibility, child riders, etc. Be sure you understand what options are available to you because these features may be the key to protecting your loved ones financial futures," says Udell.
•Look for Guaranteed Rates- "Be sure that when you receive a term life insurance quote, it is a guaranteed rate. Be cautious of life insurance companies that only offer you a projected rate, because the policy could actually end up costing you more out of pocket than you can actually afford," says Udell.
•Avoid "Come On" Rates - "Make sure that you actually qualify for the term life insurance policy you are quoted, according to your individual health and lifestyle profile," says Udell. "Often times, companies simply list the least expensive policy at the top to entice people to apply," says Udell. "However, these rates are offered to only the healthiest people."
"Shopping around is the best way to find inexpensive life insurance rates," says Udell. "Take advantage of the internet and sites like AccuQuote, which can provide you with term life insurance quotes quickly and compare them with several other top-rated companies in the industry. And remember, if a cheap term life insurance rate looks to good to be true, then it probably is."
About AccuQuote:
AccuQuote helps consumers find the best values in term life insurance by combining instant online life insurance quotes with the personal service of unbiased life insurance professionals that can help answer questions, identify important issues, and make meaningful recommendations. The company offers consumers an extensive selection of life insurance options, including term life, whole life, and universal life, as well as selected annuities. The website has many handy insurance tools, including a life insurance needs calculator to help you figure out how much to buy, a glossary that explains industry terminology, a collection of articles that cover the basics about life insurance, and a blog which answer many questions about life insurance. For additional information or to get quotes for discount term life insurance, please call 1-888-314-4455.
###