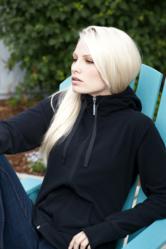 TerraFrog has become the go to clothing designer for unique, limited edition lifestyle clothing and active wear.
Sherwood Park, Alberta (PRWEB) September 29, 2011
Women's yoga and athletic wear designer and online sportswear company, TerraFrog Clothing Corporation, launched its Fall 2011 Collection in September. The collection is now available for purchase through TerraFrog's online store and at select retailers in Canada and New York City.
The fall 2011 sportswear collection is creating a lot of buzz with clients and retailers looking for trendsetting yoga and athletic wear. TerraFrog has become "the go to clothing designer for unique, limited edition lifestyle clothing and active wear."
For TerraFrog's fall 2011 athletic wear collection, designers Cori and Bobbi Windsor found inspiration in mature academic institutions and surrounding campuses. The fabrics used in the fall collection include school girl plaids, textured knits, cozy fleece made partly from recycled plastic containers, and striking colored textiles reminiscent of a well treed campus in the fall.
Tops include short sleeved tees with a silky feel, scoop neck tanks, and the highly sought after limited edition yoga tanks that are coveted by fashion trendsetters looking for something that no one else has. Despite popular demand for the designer tanks, TerraFrog makes them in limited supply. In 2009, the pink plaid limited edition tank sold out within 72 hours of it's release.
There are three athletic and lifestyle wear jackets in the TerraFrog fall 2011 lineup which include the slimming two tone navy and white yoga warm up jacket, the heavy weight lifestyle hoodie, and the warm and cozy fleece coat made from recycled plastic containers. All jackets are designed with extra long sleeves. Details such as pretty metallic zipper pulls with raised frog logos, luxurious high mock necks, and jersey lined hoods complete the package.
About TerraFrog Clothing Corp:
TerraFrog Clothing Corp. is a Canadian athletic wear manufacturer providing unique, superior quality yoga clothing to individuals and select retail outlets. TerraFrog is well known for their exclusive, trend setting designs and styles. This stylish lifestyle and casual wear company limits the number of pieces they make despite consumer demand.
TerraFrog designs can be purchased directly through the TerraFrog website or at select retailers across Canada and in New York City. TerraFrog wholesales their active wear line and yoga accessories to trendy boutiques in the United States and across Canada.
###