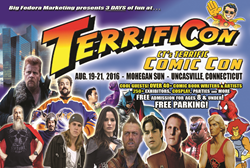 "TerrifiCon - the name says it all! Its a terrific comic con!"
Uncasville, Connecticut (PRWEB) April 07, 2016
Calling all fans of superheroes, sci-fi, horror, and anime! TerrifiCon: CT's Terrific Comic Con™ invades the massive Mohegan Sun Convention Center in Uncasville, Connecticut, on August 19-21, 2016, for three days of action, excitement, and family fun.
Big Fedora Marketing, the producer of the three-day comic con at Mohegan Sun, is expanding the event's programming to provide fans with more space for exhibits and a greater number of dealers in rare comic books and pop-culture merchandise. TerrifiCon offers fans more opportunities to meet their favorite comic-book artists and writers, as well as performers from TV and movies. There will also be a great lineup of after-con activities, including parties, poker, music, and comedy all at Mohegan Sun, recently voted Connecticut's "Best Hotel" by Travel and Leisure magazine.
More than 40 comic-creator guests will be part of the largest gathering of comic-book professionals in Connecticut for the three-day spectacular. The list includes Marvel's award-winning and best-selling Spider-Man writer Dan Slott, legendary Batman artist Neal Adams, the first-ever New England appearance of comic writer Roger Stern, and a rare con appearance by artist Rick Hoberg, who worked on Marvel's original adaptation of "Star Wars" and animated shows like "Spider- Man and his Amazing Friends," "Jem," "Teenage Mutant Ninja Turtles," "The X-Men,". New York Times best selling author Peter David (Star Trek, Hulk) and many more. Artists appearing include Mark Bagley (Spider-Man), Dan Parent (Archie), Ron Garney (Daredevil), Graham Nolan (Batman), Scott Koblish (Deadpool), Franco (Tiny Titans) and dozens more.
From the world of television and movies, writer/director/actor and lifelong fanboy, Kevin Smith, will be doing a special comedy show on Saturday night at the Cabaret theater at Mohegan Sun. Other members of Smith's View Askewniverse will be meeting fans over the course of the weekend, including actor Jason Mewes, from Smith's films "Clerks," and the Jay and Silent Bob film series, Jeremy London from "Mallrats" (and "Party of Five"), and the cast of "Comic Book Men".
Other celebrity guests include representatives of current and recent hits, such as Michael Cudlitz ("The Walking Dead"), Katrina Law ("Arrow"), and Sean Gunn ("Gilmore Girls," "Guardians of the Galaxy"), as well as veteran performers, like Rene Auberjonois ("Star Trek: Deep Space Nine," "Boston Legal," "Benson"), Sam J Jones("Flash Gordon"), and wrestling legend Road Warrior Animal. Many more guests will be announced in the coming months.
The three-day event will also have many other events and attractions, including a costume contest for adults, a costume parade for children, more than a dozen question-and-answer panels with the invited guests, live music and comedy, photo backdrops, and a special day of children's programming on Sunday which includes magic shows, music, and more.
"For fans of comic books, sci-fi/fantasy films and TV shows, and cosplay, the three-day convention at Mohegan Sun will be the 'must-attend' event of the summer", said TerrifiCon's owner Mitch Hallock. "We are also incorporating the terrific elements and activities of Mohegan Sun which you cannot find at any other comic con and that will give fans so much more to do after the show ends for the day." Hallock, who is a lifelong comic-book fan and frequent contributor to WPLR's "Chaz and AJ" radio program as "King of the Nerds" went on to say this comic con will "deliver the experience fans expect from the massive big-city comic cons while still maintaining an intimate setting."
Visit the con's official website for show hours and details at http://www.terrificon.com
Children 8 and under are admitted at no charge to the comic con when accompanied by a paying adult attendee. Comic con tickets are on sale at Mohegan Sun Box Office, which is open seven days a week, from 10 am - 8 pm, or may be purchased online at http://www.ticketmaster.com .