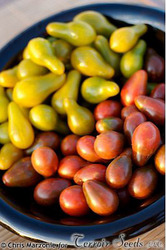 "Incredible colors and flavors from such small tomatoes!"
(PRWEB) September 21, 2010
Terroir Seeds is pleased to announce the introduction of two completely new varieties of pear tomato- the Green Pear and the Chocolate Pear. Developed by one of our growers through several years of specific selection the Green Pear has a base of light green that shines through an overlay of translucent creamy yellow. The final color is almost even between a "yellow" and a "green" tomato. The Chocolate Pear has a base of traditional light tomato red swirled with an overlay of both green and brown hues very reminiscent of the luscious Black tomatoes, with a flavor profile to match. The overall color is deceptive, as it is not red, green or brown, but all three.
They are the same size as the familiar Red and Yellow Pear tomatoes with wonderful colors and unexpected flavors, as they taste like larger tomatoes. The Green Pear is initially fruity, meaty and substantial followed by bright, sweet notes and a long sustained finish. It is surprising, as it appears delicate, but has a very substantial taste and mouth feel. The Chocolate Pear is slightly tart, then slightly sweet with a very full and rich tomato flavor that bursts in the mouth. It combines the richness of a paste tomato with the sweet and tart profile of an heirloom slicer.
Gourmet chefs have been raving about the colors and flavors these little beauties provide to their dishes, and we are pleased to be able to offer the seeds so everyone has the chance to enjoy them. Pre-orders are being taken for delivery starting December 15, 2010 which gives a jump start to the 2011 growing season.
In addition to the colors and flavors, these tomatoes are both fast growing and extremely productive, making them a great addition for the home gardener, as well as the CSA and market grower looking to add something special to next year's offerings.
For more information and to order, please contact Stephen or Cindy Scott at Terroir Seeds LLC.
###