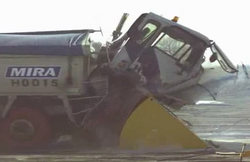 Hornsea, East Yorkshire, UK (PRWEB) April 5, 2009
Following the recent crash tests on their HCR4M1200RB Roadblocker, in line with the British Standard PAS68, http://www.heald.uk.com/company-profile.htm are pleased to announce the success of another test - a worldwide first for the Roadblocker! It not only stopped a 30 tonne truck travelling at 50mph, but was fully functional after the test, and the foundation was undamaged.
Tested at MIRA on Friday 20th March 2009 the Roadblocker was impacted with a fully loaded 30 tonne truck travelling at 50mph and not only withstood the impact with zero penetration but also operated afterwards with no damage to the foundation. This is the third test that this particular Roadblocker has successfully undertaken and to the highest PAS68 specification currently available.
This is the only Roadblocker of its kind that has passed both PAS 68 (30 tonnes/ 50MPH) and holds the Department of State K12 certification.
The unique design of the Roadblocker is the key to its success. Special crash bars and a sacrificial front radius are incorporated into the design so upon impact these help absorb the force and leave the main body of the blocker intact, maintaining site security. The Roadblocker therefore remains a formidable barrier against vehicular threat.
The Roadblocker requires NO reinforcement of concrete or pre casting of the pit ensuring minimal disruption to the site and surrounding area.
http://www.heald.uk.com/PAS68K12-rated-road-blockers-1200.htm has been repeatedly tested and will withstand multiple attacks.
About Heald Ltd.
Heald design, manufacture and install a range of high security access systems ranging from Crash tested and approved Roadblockers and automated bollards to manual heavy duty products such as arm barriers, height restrictors and telescopic bollards. They offer various access controls to complement their automated range.
For further information, please contact Vicky Hughes or Caroline Robinson in the Sales department on: 00 44(0)1964 535858
Northfield, Atwick Road, Hornsea, HU18 1EL
Telephone +44 (0) 1964 535858
Facsimile +44 (0) 1964 532819
or you can contact Steve Littlewood in their Reigate office 01737 735007
###