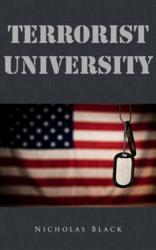 Baltimore, Maryland (PRWEB) December 24, 2012
Ever since the terrorist attacks of September 11, the question looming over many American citizens and policymakers has been this one: How should the United States respond to global terrorist initiatives? That question has gained in complexity, thanks to ongoing debates over torture and intelligence-gathering, and now it has ignited a whole new generation of dramatic explorations of the U.S. in an era of international terror. As a recent Los Angeles Times article makes clear, terrorism and counterterrorism lie at the heart of the critically acclaimed new film Zero Dark Thirty, as well as the award-winning TV series Homeland. Joining them is Terrorist University: How Did it Happen that the U.S. Government Knew About the Madrid Bombing and Did Nothing?, a startling book from author Nicholas Black, now available in its second edition from Enoch Press.
Black has issued a new statement to the press, suggesting that the ongoing interest in counterterrorist initiatives is no great surprise. "The acts of terrorism that have been committed against the U.S. and other nations are unspeakably and unquestionably dark deeds, but what is equally troubling is the fact that many of our best efforts at suppressing terrorism have fallen into ethically shaky ground," says Black. Himself a veteran of the U.S. Navy, Black is a patriot through and through—and he sees it as his patriotic duty to raise serious questions about how the U.S. pursues its counterterrorist initiatives, something he does in Terrorist University.
"My intent was never to become a vocal critic of U.S. counterterrorist activities, but that seems to be the role I have been cast in," continues Black. The tale told in Terrorist University, a shockingly truthful and provocative account, began when Black was extradited from Spain's Valdemoro prison in 2003. He delivered to the U.S. government sensitive information which could have prevented the horrific Madrid train bombings of March 11, 2004, but, according to Black, the government chose not to implement this information. Terrorist University reveals new legal files and court documents that verify Black's story and give weight to his penetrating questions about counterterrorism and public policy.
Black says that he is not the only one interested in these lingering questions. "Zero Dark Thirty and Homeland are two examples among many of artists and storytellers trying to get to the bottom of these difficult issues," Black says. "My hope is that my true-life account will contribute something to this conversation."
The second edition of Terrorist University has been released on Amazon Kindle, by Enoch Press. Additionally, the book is available in paperback on Amazon. For more information about Terrorist University, readers are encouraged to visit http://www.terroristuniversity.com.
ABOUT:
Nicholas Black is a former Security Contractor, U.S. Navy serviceman and member of the French Foreign Legion. In his book, Terrorist University, ISBN-13: 978-1481174008/ISBN-10: 1481174002, Black vividly recounts his undercover intelligence gathering operations in Ibiza and Valdemoro prison in Spain. The intelligence he gathered during his efforts should have successfully prevented the Madrid train bombings on March 11, 2004; however, history tells a different story. Nicholas Black can be found online at http://www.terroristuniversity.com. Terrorist University was released on December 10, 2012 on Amazon Kindle and in paperback by Enoch Press. Terrorist University and Nicholas Black can be found on Facebook.