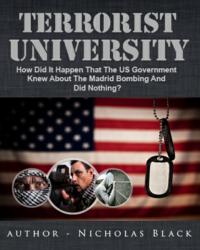 About six months after I left Spain, the Madrid train bombings happened, and they involved the same group of terrorists that I had been tasked with getting close to and, ultimately, getting information about the attack-to-be from.
Baltimore, MD (PRWEB) December 12, 2012
The soon-to-be-unveiled film, Zero Dark Thirty, directed by filmmaker Kathryn Bigelow, about the apprehension and the final chapter of the manhunt for the world's most elusive and sought after terrorist, Osama Bin Laden, is already receiving considerable buzz in Hollywood prior to its release on January 11, 2013. The film is a likely contender to take home multiple Oscar awards and is based on firsthand accounts from CIA and American intelligence members. However, the film, which has a premise that is widely known by regular individuals the world over, is not the first insider account of high-level terrorist and counter-terrorism activity. Author Nicholas Black, former U.S. Navy and French Foreign Legion member who has penned 17 books, recounts his own story of an undercover operation which ran from October 2002 until June 2003, and which ultimately ended in the tragic train bombings in Madrid, Spain, on March 11, 2004.
Black, who also has served as a private bodyguard and has extensive martial arts and specialized training, makes some considerable claims in his book, including that the U.S. government not only knew about the Madrid terrorist attack, but also allowed the attack to happen. However, unlike some conspiracy claims that find a home on the Internet, Black has the material, including court documents, to back his claim up. Indeed, a large amount of Black's knowledge was provided to him while he was in Valdemoro prison in Spain. It was here, inside the walls of the nicknamed "Terrorist University," that Black not only had the opportunity to glean insider intelligence into al Qaeda operations, but he was also able to befriend several high-ranking al Qaeda operatives, all while serving on an undercover intelligence gathering mission.
"I was in prison awaiting extradition and the U.S. Government saw an opportunity to use me," stated Black. "They asked me to gather information on al Qaeda and I agreed to do this. There was not a happy ending, however, because of my work. About six months after I left Span, the Madrid train bombings occurred. It involved the same group of terrorists that I had been tasked with getting close to, and ultimately, getting information about the attack-to-be from."
Terrorist University is the second edition of Black's original account of his story and has considerable new material, as well as court documents and other official papers that back up Black's claim. The original edition, entitled, Walking Ghost: Welcome to Terrorist University, has been improved upon since Black signed with Enoch Press, the current publisher. The new edition encompasses additional background information, intelligence, court documents and more. The Kindle version of the book is scheduled to be released on December 11, 2012 and will be available on Amazon.com. Terrorist University will be available in paperback and on Nook e-readers at a later date. As a special promotion, the book will be free to a limited number of customers upon release on Kindle between December 15 and 19. However, this promotion can be ended without notice by the publisher.
Black is quick to realize the public's interest in films such as Zero Dark Thirty, as well as books such as his, and believes that both stories offer much to the public in terms of knowledge regarding what the government does, and does not do, to ensure the safety of citizens worldwide.
"I recognize there are a lot of conspiracy theories, but that is not what this is, nor is Zero Dark Thirty. Some of the best stories are based on cold, hard facts," noted Black. "And that is ultimately what both stories aim to deliver to the curious public who has a right to know what their government is doing to protect them. I find it ironic that the U.S. government had all of this information [regarding al Qaeda] and failed to use it time and again. I believe that viewers interested in Zero Dark Thirty will definitely see the basis for the story in Terrorist University."
ABOUT:
Nicholas Black is a former Security Contractor, U.S. Navy serviceman and member of the French Foreign Legion. In his book, Terrorist University, ISBN-13: 978-1481174008/ISBN-10: 1481174002, Black vividly recounts his undercover intelligence gathering operations Ibiza and Valdemoro prison in Spain. The intelligence he gathered during the effort should have successfully prevented the Madrid train bombings on March 11, 2004; however, history tells a different story. Nicholas Black can be found online at http://www.terroristuniversity.com. Terrorist University was released on December 11, 2012 on Kindle by Enoch Press.