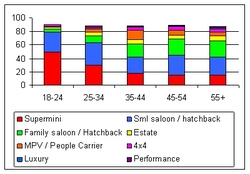 London, UK (PRWeb UK) July 3, 2009
Calculations by Tescocompare.com, the financial search engine, have revealed drivers own an average of 9 cars each during a lifetime - and of those 9 cars, the first two will be purchased before we're 24, with this figure rising to six cars by the time we reach 40. However, not everyone conforms to this trend with one in five (19%) motorists across the UK displaying extreme car ownership trends. 1 million drivers own 20 or more cars over their driving career, whereas for 5.5 million drivers, 1 car throughout their driving lifetime is simply enough.
However the impact of the credit crunch could mean typical car ownership trends are impacted. Already, 29% of motorists say the current climate has made them less likely to change their car in the next 12 months, with 23% saying they would consider selling one of their cars to save costs in the current economic climate.
Yet whether still changing cars regularly or looking for ways to cut back, drivers are still missing a trick when it comes to car insurance, where the propensity to change is much less. According to the stats, 15% of motorists have been with the same insurance provider for over 5 years, despite 18% saying they regularly change the car they drive.
Debra Williams from Tescocompare.com commented: "Although motorists will change their car an average of nine times during their lifetime, it's highly unlikely they will have changed their car insurance provider quite so many times. People tend to stick to what they know and consequently could be paying over the odds on their annual premiums.. Even when the make and model of the car doesn't change from year to year, driving experience, age and personal circumstances do, all of which could have an impact on the cost of car insurance."
Typical car ownership patterns revealed:
Tescocompare.com's research shows that the majority (69%) of today's car owners have owned their current car for an average of 3 years and bought it second-hand at an average cost of £8,669. Half (54%) opted to pay in cash, and a quarter (24%) funded this purchase through a loan or hire purchase. And although we have a tendency to swap cars regularly, motorists' choice of car make and model doesn't tend to vary that much across a lifetime. Not surprisingly, youngsters tend to opt for a 'supermini' - the likes of a Ford Fiesta or Vauxhall Corsa - but typically upgrade to a saloon or higher end hatchback - a VW Golf or Ford Focus - in their late twenties and early thirties. 8% of today's young drivers have grander aspirations and intend on purchasing a performance car or 'Hot Hatch' as their next car, whereas MPVs and People Carriers are the next car of choice for one in eight (13%) 34-44yr olds.
And with the Chancellor having announced a £2,000 scrappage scheme for used cars in the Budget, a look at what would encourage people to change their car reveals some interesting facts:

Half (50%) of car owners say unreliability is a key factor and would lead them to change their vehicle if this became an issue
A desire for something better (26%), or coming into money (26%) are the second most popular triggers to changing cars
Older drivers seem more content with what they've got with only 22% of over 55yrs saying they'd change cars 'if they see something better', compared to more than double (47%) the amount of 18-24yr olds
Whilst changing a car simply as a matter of course (18%), because of servicing costs (22%) or for family reasons (16%) impact on car ownership trends, only a small number of drivers (14%) are influenced by a car's 'green' credentials
Williams concluded: Shopping around is essential for any generation, especially as prices and policy features can vary significantly. Comparing car insurance on a like for like basis, and not just on price, is an absolute must for drivers of any age, and certainly shouldn't just be considered when changing car. Using a price comparison service year on year helps drivers get the best deal for their car insurance regardless of the stage of their driving career they are at.
Visit http://www.tescocompare.com for car insurance quotes from a number of leading car insurance brands.
Notes to Editors:
1 Figure calculated by Tescocompare.com based on research carried out by YouGov Plc. Total sample size was 2,647 adults. Fieldwork was undertaken between 28th - 31st March 2008. The survey was carried out online. The figures have been weighted and are representative of all GB adults (aged 18+).
2 Opinium carried out an online poll of 2004 British adults from Friday 8th to Tuesday 12th May 2009. Results have been weighted to nationally representative criteria.
3 Research conducted by YouGov between 21st- 25th February 2008, the total sample size was 2,073.
Tescocompare.com offers price comparison services on the following products:

Car Insurance
Van Insurance
Home Insurance
Motorbike Insurance
Small business insurance
Life Insurance
Gas and Electricity suppliers
Credit
Tesco Compare is part of the Tesco Personal Finance Group, the financial services arm of the UK's number one supermarket chain, which is fully owned by Tesco plc.
Tesco Personal Finance Compare Limited. Registered in Scotland No.318925. Interpoint Building, 22 Haymarket Yards, Edinburgh EH12 5BH. Authorised and regulated by the Financial Services Authority.
###