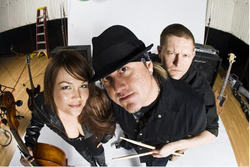 This should be a rockin' tour, playing in some really fantastic theaters and venues across this great country. We're honored to be playing with Tesla, one of our favorite bands of all-time
Newport Beach, CA (PRWEB) March 25, 2009
Orange County, CA-based rock band Damage (PRWeb Press Release Newswire) has signed on for a cross-country tour with Tesla that will take them from California to New York during the month of April and finishing in early-May.
Damage will be on the road supporting its latest album "Truth and Consequence" released last summer through Adrenaline Music/Warner Music Group. Damage was named winner of the prestigious Best Hard Rock Band Award at the Southern California Music Awards, and has received numerous accolades and glowing reviews during the band's five-year run.
"This should be a rockin' tour, playing in some really fantastic theaters and venues across this great country. We're honored to be playing with Tesla, one of our favorite bands of all-time," commented Damage's front man Mike Neufeld.
The tour schedule is as follows:
Apr 1 2009 8:00P Warnors Theater, Fresno, California
Apr 2 2009 8:00P Fox Theater, Oakland, California
Apr 4 2009 8:00P Showbox, Seattle, Washington
Apr 5 2009 8:00P Roseland Theater, Portland, Oregon
Apr 7 2009 8:00P Knitting Factory, Spokane, Washington
Apr 8 2009 8:00P Knitting Factory, Boise, Idaho
Apr 10 2009 8:00P Shrine Auditorium, Billings, Montana
Apr 11 2009 8:00P The Venue, Fargo, North Dakota
Apr 14 2009 8:00P Meyer Theater, Green Bay, Wisconsin
Apr 15 2009 8:00P Barrymore Theater, Madison, Wisconsin
Apr 17 2009 8:00P Genesee Theater, Waukegan, Illinois
Apr 18 2009 8:00P Piers, Fort Wayne, Indiana
Apr 19 2009 8:00P Rialtos, Joliet, Illinois
Apr 21 2009 8:00P Civic Center, Peoria, Illinois
Apr 22 2009 8:00P Bogart's, Cincinnati, Ohio
Apr 24 2009 8:00P Northern Lights, Albany, New York
Apr 25 2009 8:00P Main St Armory, Rochester, New York
Apr 27 2009 8:00P The Chance, Poughkeepsie, New York
Apr 28 2009 8:00P Toads Place, New Haven, Connecticut
Apr 30 2009 8:00P Turning Stone Casino, Verona, New York
May 1 2009 8:00P Wellmont Theater, Montclair, New Jersey
May 2 2009 8:00P House of Blues, Atlantic City, New Jersey
For more Damage information, please visit PRWeb Press Release Newswire.
Electronic Press Kits are available at PRWeb Press Release Newswire.
###