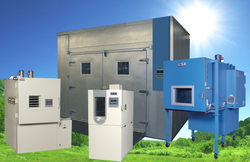 Cincinnati, OH (PRWEB) July 9, 2010
CSZ environmental chambers with the Tundra® & Tundra® II refrigeration system can efficiently to test product down to the low temperatures of -45°C or -54°C. The Tundra refrigeration system is a patented, mechanical refrigeration system with only one compressor and used exclusively on CSZ environmental chambers. Many products in defense, automotive, electronics and telecommunications markets require temperature testing down to -40°C or lower for R&D and reliability testing. These test applications are ideal for CSZ environmental chambers with the Tundra.
This revolutionary system surpasses other environmental chamber brands in the market since it utilizes one compressor, compared to others that require the use of a cascade (two-compressor) refrigeration system to efficiently operate at these low temperatures. By using only one compressor for cold temperature testing, significant savings can be realized in initial cost, operating and maintenance costs.
Documented energy savings up to 54% are obtained by using CSZ's proven & patented Tundraâ system as opposed to an environmental chamber with a cascade (two-compressor) system. Along with reduced energy consumption, the Tundra system offers additional benefits important to environmental chamber users.

Increased Performance Capacity - The system offers greater capacity with rapid temperature change rates and excellent live load ability at warmer temperatures.
High Reliability – Utilizing proven refrigeration system design that has a single compressor with fewer parts than a cascade system adds to the reliability of the Tundra system. CSZ provides a 3 year part & labor warranty on Tundra chamber compressors.
Reduced Maintenance Costs – With few parts to service, maintenance cost will be lower.
Visit http://www.cszindustrial.com/green for more information on the Tundra & Tundra II refrigeration system.
About Cincinnati Sub-Zero
The parent of three separate divisions, Cincinnati Sub-Zero (CSZ) is a leading manufacturer of temperature management products for medical and industrial markets. CSZ environmental test chambers, the most valued and competitive in the industrial market, include temperature-cycling chambers, humidity chambers, accelerated stress-testing chambers, thermal-shock chambers, altitude chambers, AGREE vibration chambers, industrial freezers, and more. Standard chamber temperatures range from -73°C to +190°C with optional relative humidity from 10% to 98%; sizes range from bench-top to full walk-in/drive-in rooms. Chambers built to specifications also are available. Please visit http://www.cszindustrial.com for additional information.
# # #