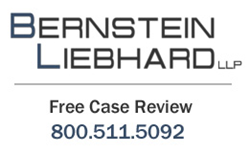 We recognized the importance of launching a website that provides men with the information they need to file a testosterone lawsuit.
New York, NY (PRWEB) April 19, 2014
As AndroGel and other hormone-raising therapies continue to be named in testosterone lawsuit (http://www.testosteronelawsuitclaims.com/) allegations, Bernstein Liebhard LLP has launched a new website for men who may be eligible to file a case of their own.
The Firm's new site will include updates on claims that have already been filed over this testosterone treatment therapy, as well as several other "Low T" prescription medications. According to court records, a number of AndroGel lawsuit filings are now pending in the U.S. District Court, Northern District of Illinois on behalf of men who allege that use of drug may lead to strokes, heart attacks, dangerous blood clots and other complications. (Case Nos: 1:14-cv-00776, 1:14-cv-00780, 1:14-cv-00777, and 1:14-cv-00772)
The new website from Bernstein Liebhard LLP will educate potential claimants on the process of filing a case alleging similar injuries resulting from their use of Testim, Axiron and other similarly-designed products, including AndroGel.
"Our Firm continues to hear from men who allegedly sustained strokes, heart attacks, and other side effects stemming from "Low T" treatment therapies, so we recognized the importance of launching a website that provides them with the information they need to file a testosterone lawsuit," says Bernstein Liebhard LLP, a nationwide law firm representing victims of defective medical devices and drugs. The Firm is currently offering free legal reviews to anyone who claims to have suffered serious heart attacks, strokes, deep vein thrombosis or pulmonary embolism, after taking a prescription testosterone therapy.
AndroGel Lawsuits
According to a brief filed on March 28th with the U.S. Judicial Panel on Multidistrict Litigation (JPML), some 30 AndroGel lawsuits have now been filed in the Northern District of Illinois. The brief was filed by plaintiffs in these cases, who asked that all similar claims be transferred to the jurisdiction, where they would be coordinated by a single judge. (In Re: AndroGel Product Liability Litigation, No. 36, JPML)
The federal Panel has not announced its decision to approve or deny this request.
In addition to AndroGel lawsuits centralized in Illinois federal court, several other testosterone lawsuits are currently pending in courts throughout the U.S. Court records show that two claims over Testim were filed in the U.S. District Court, Eastern District of Pennsylvania on March 10th and 25th on behalf of men who were allegedly injured by the medication. (Case Nos. 140301684 and 140302537) On February 26th, another lawsuit over the medication was filed in the Northern District of California. (Case No. 14-278)
All these claims similarly allege that certain "Low T" treatments like AndroGel are aggressively marketed by manufacturers to treat low libido, fatigue and other common symptoms of aging. In turn, more men have been prescribed testosterone-raising medications that are only approved by the U.S. Food and Drug Administration (FDA) to treat low levels stemming from another medical condition, such as hypogonadism (low or no testosterone).
The nationwide litigation surrounding "Low T" treatment therapies has continued to grow since the FDA announced on January 31, 2014 that it was conducting a safety review of all prescription treatments for low testosterone, court records indicate.
Men who may have experienced serious cardiovascular injuries allegedly caused by AndroGel, Testim or another "Low T" medication may be eligible to receive compensation from the manufacturer. To learn more about filing an AndroGel lawsuit, or a claim involving another testosterone therapy treatment, please visit Bernstein Liebhard LLP's website. Free, no-obligation legal consultations can be obtained by calling 800-511-5092.
About Bernstein Liebhard LLP
Bernstein Liebhard LLP is a New York-based law firm exclusively representing injured persons in complex individual and class action lawsuits nationwide since 1993, including those who have been harmed by dangerous drugs, defective medical devices and consumer products. The firm has been named by The National Law Journal to the Plaintiffs' Hot List, recognizing the top plaintiffs firms in the country, for the past 12 consecutive years. Bernstein Liebhard LLP is the only firm in the country to be named to this prestigious list every year since the list was first published in 2003.
Bernstein Liebhard LLP
10 East 40th Street
New York, New York 10016
800-511-5092
ATTORNEY ADVERTISING. © 2014 Bernstein Liebhard LLP. The law firm responsible for this advertisement is Bernstein Liebhard LLP, 10 East 40th Street, New York, New York 10016, 800-511-5092. Prior results do not guarantee or predict a similar outcome with respect to any future matter.
Contact Information:
Felecia L. Stern, Esq.
Bernstein Liebhard LLP
info (at) consumerinjurylawyers (dot) com
http://www.testosteronelawsuitclaims.com/
https://plus.google.com/115936073311125306742?rel=author