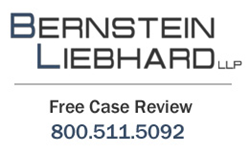 In light of the mounting litigation involving testosterone therapies, it would seem that Dr. Page's concerns are warranted.
New York, New York (PRWEB) May 02, 2014
As testosterone lawsuits (http://www.testosteronelawsuitcenter.com/) continue to mount in courts around the country, Bernstein Liebhard LLP notes that a prominent endocrinologist has called on medical researchers to launch large, randomized clinical trials to more fully understand the cardiovascular risks associated with the use AndroGel and other low testosterone therapies in older men. According to a report published by MedicalExpress.com on April 28th, Dr. Stephanie T. Page of the University of Washington asserts that that existing studies have provided conflicting information on this potential danger. Writing in The Lancet Diabetes & Endocrinology, Dr. Page also urged physicians to inform patients that the risks potentially associated with low testosterone therapies are not fully understood, and to take a conservative approach when prescribing the medications.*
"Our Firm has heard from numerous men seeking to file a testosterone lawsuit for heart attacks, strokes and other cardiovascular problems allegedly caused by these medications. In light of the mounting litigation involving testosterone therapies, it would seem that Dr. Page's concerns are warranted," says Bernstein Liebhard LLP, a nationwide law firm representing the victims of defective drugs and medical devices. The Firm is currently offering free testosterone lawsuit reviews to anyone who may have suffered heart attacks, strokes, deep vein thrombosis, pulmonary embolism, or other serious heart problems allegedly due to the use of prescription testosterone therapies.
Testosterone Lawsuits
Prescription testosterone therapies are approved to treat low testosterone in men who suffer from the condition as a result of an associated medical disorder. According to the U.S. Food & Drug Administration (FDA), drugs in this class include:**

AndroDerm
AndroGel
Axiron
Bio-T Gel
Delatestryl
Depo-Testosterone
Foresta
Striant
Testopel
Testim
On January 31, 2014, the FDA announced that it was investigating heart risks potentially associated with this class of medications. The agency's action was prompted by the publication of research that suggested the use of testosterone increases the risk of heart attack, strokes, and death in men over 65-years-old, as well as in younger men with pre-existing heart disease.
Since the FDA issued its health alert, court documents indicate that dozens of testosterone lawsuits have been filed in courts around the county on behalf of men who allegedly suffered heart attacks, strokes, dangerous blood clots and other serious heart problems due to their use of low testosterone therapies. According to a brief a filed with the U.S. Judicial Panel on Multidistrict Litigation (JPML) on March 28, 2014, plaintiffs in AndroGel lawsuits are seeking the consolidation of all federally-filed claims involving that medication before a single judge in the U.S. District Court, Northern District of Illinois. (In Re: AndroGel Product Liability Litigation, No. 2545, JPML) A second petition filed with the JPML on April 11th requests that a multidistrict litigation be established for all federal claims involving the entire class of medications in the U.S. District Court, Eastern District of Pennsylvania. (In Re: Testosterone Products Liability Litigation, No. 42, JPML)
Patients who allegedly suffered heart attacks, strokes, dangerous blood clots, or other life-threatening heart problems due to low testosterone therapy may be entitled to compensation. To learn more about filing a testosterone treatment lawsuit, please visit Bernstein Liebhard LLP's website. Free, no-obligation legal consultations can be obtained by calling 800-511-5092
*medicalxpress.com/news/2014-04-large-clinical-trials-testosterone-treatment.html, Medical Express, April 28, 2014
**http://www.accessdata.fda.gov/scripts/cder/drugsatfda/index.cfm?fuseaction=Search.SearchAction&SearchType=BasicSearch&searchTerm=testosterone&Search_Button=Submit
About Bernstein Liebhard LLP
Bernstein Liebhard LLP is a New York-based law firm exclusively representing injured persons in complex individual and class action lawsuits nationwide since 1993. As a national law firm, Bernstein Liebhard LLP possesses all of the legal and financial resources required to successfully challenge billion dollar pharmaceutical and medical device companies. As a result, our attorneys and legal staff have been able to recover more than $3 billion on behalf of our clients. The Firm has been named by The National Law Journal to the Plaintiffs' Hot List, recognizing the top plaintiffs firms in the country, for the past 12 consecutive years. Bernstein Liebhard LLP is the only firm in the country to be named to this prestigious list every year since it was first published in 2003.
Bernstein Liebhard LLP represents the victims of defective drugs and medical devices on a contingency-fee basis, and our clients are never expected to pay attorneys fees unless their case results in a successful recovery on their behalf. New York State's contingency fee cap rules generally limit those fees to 33 1/3% of the total recovery. As a result, the Firm's fees can be significantly lower than those assessed by attorneys in other states, which depending on the law may amount to as much as 40% or more of a plaintiff's recovery
Bernstein Liebhard LLP
10 East 40th Street
New York, New York 10016
800-511-5092
ATTORNEY ADVERTISING. © 2014 Bernstein Liebhard LLP. The law firm responsible for this advertisement is Bernstein Liebhard LLP, 10 East 40th Street, New York, New York 10016, 800-511-5092. Prior results do not guarantee or predict a similar outcome with respect to any future matter.
Contact Information:
Felecia L. Stern, Esq.
Bernstein Liebhard LLP
info (at) consumerinjurylawyers (dot) com
http://www.testosteronelawsuitcenter.com/
https://plus.google.com/115936073311125306742?rel=author