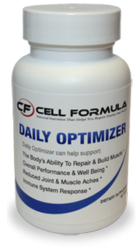 A free report on all natural testosterone supplements is now available from natural health and wellness company True Healthy Products.
(PRWEB) March 21, 2012
Testosterone boosting supplements, "Cell Formula - Daily Optimizer" is now available from True Healthy Products. A free report is also available for the natural supplement and other products in the supplement line, which discusses low testosterone symptoms and how the Daily Optimizer is able to raise testosterone levels naturally.
The Free Report can be downloaded here: http://www.cellformula.com/report/
The Cell Formula - Daily Optimizer was formulated for anyone that wants to boost their performance at the gym or in their day to day lives. One of the ingredients: Dehydroepiandrosterone (DHEA) is a naturally occurring hormone that is primarily produced by the adrenal glands. It can change into other hormones, for example, testosterone for men and estrogen for women. Many symptoms of hormone imbalance are oftentimes mistakenly overlooked as signs of fatigue.
"The Daily Optimizer is a great compliment to any type of supplementation program. It helps me to balance my hormones, to rest and get through my days as well as really aids in recovery. After a workout there's fewer aches and pains, less inflammation and I can get through my day a lot easier with it. I take the Daily Optimizer twice a day because I find that I have fewer aches, better recovery and I sleep better at night". - Natalie Waples, IFBB figure competitor.
The new testosterone supplements, Cell Formula - Daily Optimizer is now available and for a limited time comes with a free bottle of the all natural, "Pure Energy", an energy supplement that is part of the the new Cell Formula line.
For more information about True Healthy Products, raising testosterone naturally, or other all natural products in the Cell Formula line, visit their website http://www.cellformula.com.
True Healthy Products
2460 N. Courteany Pkway. #210
Merritt Island, FL 32953
888-400-2920
http://www.truehealthyproducts.com
http://www.cellformula.com