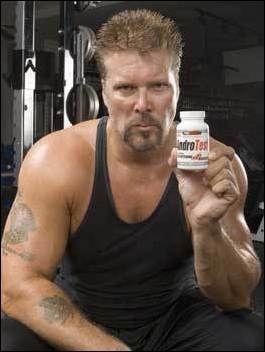 At that point, I knew I had to make some adjustments.
Daytona Beach, FL (PRWEB) July 18, 2006 –
Thanks to increased testosterone levels from ProSource (http://www.prosource.net), a strict workout regimen and gritty determination, wrestling legend Kevin Nash is heading back into the ring.
At 47 years of age, Kevin Nash is about to put his ascendant Hollywood career (The Punisher, The Longest Yard, DOA: Dead Or Alive) on hold to return to the wrestling arena where he has once won an unprecedented 18 championships. When he gets there, the 6'10" 300-pound actor and athlete will encounter fierce competitors who weren't even born when Nash first started competing. Is he ready for the challenge of taking on fighters less than half his age?
"I'm geared up to go back," he says. "I've always been into bodybuilding and keeping in shape, and I just challenge myself to see if I can continue to make improvements."
This time around, however, the former WWF and WCW ring legend will have to fend off more than choke-holds, power-slams, and pile-drivers. He's fighting Father Time and Mother Nature, as well. While few—if any—of the wrestling circuit's up-and-coming rookies can match Nash when it comes to knowledge of the game or sheer physical size, they do have one significant advantage. Higher testosterone production.
Testosterone is the wellspring from which all strength, muscle size, aggression, and libido flows. Guys in their 20's are producing more than sufficient quantities of this all-important hormone to power their way to the top. After age 30 or so, however, testosterone production begins to level off and then decline. At 47, Nash discovered that he had some improvements to make in this sensitive area. Fortunately, advanced supplementation science came to the rescue.
"I had a blood test done and my testosterone level was 550," he recalls. "At that point, I knew I had to make some adjustments." Nash began to look into supplementation strategies that he could implement to support his hard training and smart nutrition regimen. Trainers and athletes in the elite upper circles of athletics and bodybuilding are always trading secrets, and one particular supplement leaped out. A natural testosterone enhancer from ProSource called AndroTest was getting rave reviews from people Nash respected. He decided to give it a try.
After four months on ProSource's testosterone-boosting formula, Nash returned to his doctor — and found out his levels had skyrocketed to 989, a staggering increase of 439 nanograms per deciliter.
Newly invigorated, Nash said missed or low-energy workouts are now a thing of the past. "On AndroTest, there was never a training day where I didn't want to train," he explains. "A lot of times you might drive to the gym, sit in your car and listen to the radio for a half hour, thinking, 'Do I want to do this or not?' But I've been able to go in and have high energy levels, good drive, and good results."
Just back from China, where he was putting the finishing touches on his role in "DOA: Dead or Alive," "Big Sexy" is now resting up for his triumphant return with a well-earned three-week Caribbean layover on one of the islands. While there, presumably, he and his wife will be able to enjoy another benefit of Nash's recently enhanced testosterone production. Nash, ever the gentleman, declined to elaborate.
On the wrestling front, though, the future looks bright for the legendary big man. After 16 years in the game, Nash still stands tall, in better shape then ever, and he's ready to add another chapter to his storied legacy of 18 wrestling championships … with a little help from the modern science of testosterone enhancement.
Noted scribe F. Scott Fitzgerald once observed that "There are no second acts in American lives." Another big-time scribbler, Thomas Wolfe, once said, "You can't go home again." It seems these deep thinkers never met the larger-than-life man they call "Big Sexy."
About ProSource (http://www.prosource.net):
ProSource takes the science of nutrition and the quest for fitness very seriously. The ultra-premium ProSource brand of clinically inspired sports nutrition products is the end result of sophisticated, cutting-edge research and scientific validation by a staff of leading industry experts dedicated to advancing the technology of performance supplementation worldwide. ProSource's intensive product development efforts are supported by independent state-of-the-art laboratories and research facilities across the nation. As a result, each supplement in the ProSource line is stringently lab-tested, from raw materials to the finished product for purity, potency and bioavailability. Every step of the process from first concept to packaging and shipping is then supervised and validated by our own staff of leading industry experts, who have been prominent in this field for decades.
Preliminary data from a placebo-controlled, double-blind study soon to be published in a leading medical journal indicate that AndroTest caused statistically significant increases in free testosterone levels, up to 218% over baseline, and statistically significant increases in total testosterone levels, as high as 275%. These results were obtained by a team of medical doctors in a study conducted with 31 healthy adult men aged 35 to 55 years, over a period of 4 weeks. Amazingly, some subjects using AndroTest experienced nearly a three-fold increase in their testosterone levels.
All ProSource brand products are manufactured under rigorous Good Manufacturing Procedures second to none in the industry.
Contact:
Karen Hunter
karenh @ prosource.net
Prosource Performance Products
2231 Landmark Place
Manasquan, NJ 08736
###